Rental app firm vows to monitor air in apartments
Share - WeChat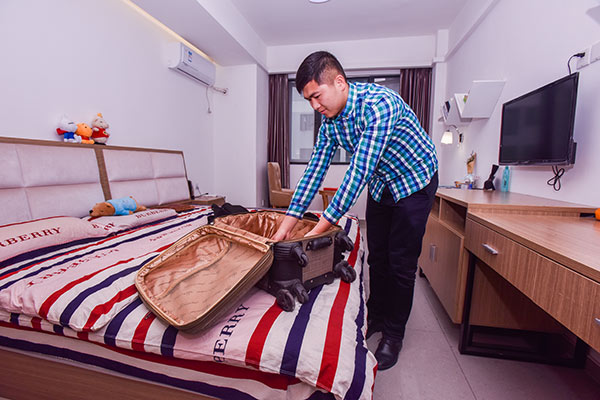 Ziroom, the apartment rental app for smartphones that has been caught up in a formaldehyde poisoning scandal, said on Tuesday that newly refurbished apartments will be left vacant for at least 30 days and pass indoor air testing before being listed on the market beginning on Sept 24.
The creators of the app - which helps to arrange long-term rentals of furnished apartments - are taking measures to assuage public fears about unhealthy levels of toxic chemicals in listed properties, including formaldehyde, a potential carcinogen.
In an announcement, app developers recognized the need to press for a "systemic solution" to substandard indoor air quality.
A tenant in Hangzhou, Zhejiang province, died of leukemia in July, about three months after moving into a new apartment rented through the app. His wife is suing the company because test results showed that levels of indoor formaldehyde registered 0.132 milligrams per cubic meter, exceeding the national standard of 0.1 mg.
A court in Hangzhou confirmed on Sept 3 that it has accepted the civil case and a hearing has been set for Sept 27.
The incident has flagged concerns about poor air quality in newly refurbished apartments listed by Ziroom, which handles at least 400,000 rooms and serves more than 1 million tenants in China.
More than 20,000 first-time rental apartments have been pulled from the market as of Sept 1 and are now under testing and cleaning to deal with chemicals released from paint, furniture and new decorations, the company said.
Through cooperation with authorized inspectors, the company can evaluate more than 1,000 apartments and clear the air in more than 2,000 per day, the announcement said.
On Aug 31, the company promised to test indoor air quality of all newly refurbished apartments and display the results.
However, it admitted that it is facing a shortage of resources and cannot include all apartments.
"Right now, our capabilities to test and monitor properties is still deeply insufficient. We hope that related institutions will contact us, and we welcome advice from experts in this field," the company said.
At the same time, Ziroom tenants have been complaining about the company's slow response to their air-testing requests.
"I turned in my request to test the indoor air at my apartment 10 days ago, and no response has come yet," a Sina Weibo user posted on Ziroom's account on Tuesday.
wangxiaoyu@chinadaily.com.cn