Cancellation threat for truant new energy makers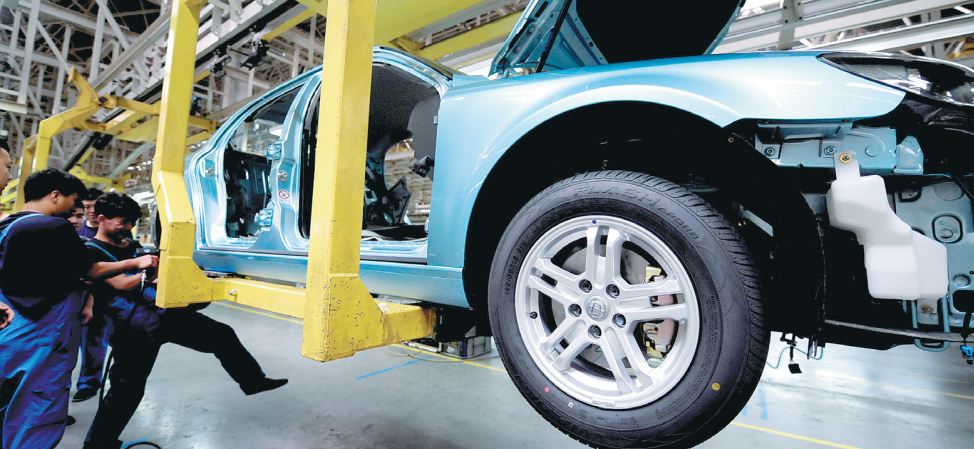 Move to streamline fast-growing sector, boost competitiveness
As Chinese startups anxiously line up to get their licenses to make electric cars, up to 30 with the necessary paperwork haven't produced new energy vehicles for at least a year - a sign, say industry observers, of disorder in the country's fast-growing market.
Last week, the Ministry of Industry and Information Technology published a list of automakers that hadn't produced such cars for a year or more. It included both State-owned ones like Brilliance Auto and joint ventures, among them GAC Honda and Changan PSA.
That means those carmakers will have to pass the ministry's inspection if they want to resume production of such vehicles at a later date, and if they fail, their licenses will be rescinded.
Analysts say the possible license cancellation will sound a sharp warning to current producers and may help to straighten up the currently large but less competitive segment.
"Their cancellation will leave opportunities for those eagerly waiting for their licenses and thus make the segment more orderly," Wang Binggang, a leading expert on China's national new energy car initiatives, told news website ifeng.com.
China is now the world's biggest market for new energy vehicles, which comprises electric cars, plug-in hybrids and fuel cell cars.
Statistics from the China Association of Automobile Manufacturers showed that a total of 777,000 new energy vehicles were sold in 2017.
In the first seven months this year, nearly 500,000 were sold, a massive 97 percent increase year-on-year.
"Though China leads the world in new energy car sales, they are from more than 200 carmakers. We do not have star models and high-end brands competitive at the global level," said Xu Chaoqian, an official at the Ministry of Science and Technology at the 2018 TEDA forum on automotive industry development held in Tianjin.
Xu's views were echoed by Song Qiuling, an official from the Ministry of Finance, who detailed several key challenges, including a structural oversupply, a large number of low-quality models and a lack of competitiveness among electric carmakers.
"Many of them are reliant on government subsidies," Song said.
"They produce cars that are just eligible for the stimuli and are reluctant to work harder to come up with better products."
China started to finance the segment in 2009 and billions of yuan have since been spent. It is cutting the amount of subsidies and plans to withdraw the subsidies by the end of 2020.
Song said the finance ministry would adjust its subsidy scheme and raise the threshold for carmakers to win subsidies, thus fostering serious, competent players.
Xu said that as the country opens the industry up wider and international brands including Tesla are starting to pour in, local brands will face grave challenges if they cannot offer competitive vehicles.
"I have a sense that the challenge will be really big, bigger than in rail transport."
China removed restrictions on new energy vehicles earlier this year, allowing foreign brands to set up wholly owned companies in the country, and US electric carmaker Tesla has signed a deal to build a manufacturing facility in Shanghai.
The plant's initial capacity is around 250,000 vehicles and battery packs per year, and will grow to 500,000, and the first cars are expected to roll off the production line in about three years, according to the carmaker. The plant will produce the smaller and cheaper Model 3 sedan and the upcoming Model Y crossover.
Other international brands are stepping up their efforts to introduce new energy models into China, partly as a result of the government's demands that carmakers should earn credits for their new energy vehicles, whose output should be above 10 percent of their total vehicle production by 2019 and above 12 percent in 2020, and their conviction that electric cars are the future.
General Motors has unveiled a plan to offer 20 new energy models in China by 2023, and Volkswagen AG is betting heavily on China's new energy car sector with a 10 billion euro ($12.5 billion) budget and up to 40 models in the pipeline.
"We are fully on the way with our new energy vehicle strategy Roadmap E, which means our plan for 2020 is to sell around 400,000 new energy cars in China and in 2025, 1.5 million," said Jochem Heizmann, the German carmaker's China chief.
Volkswagen's 2020 target accounts for a fifth of China's overall sales plan for the year released in 2017 by the Ministry of Industry and Information Technology.