Keeping the spirit alive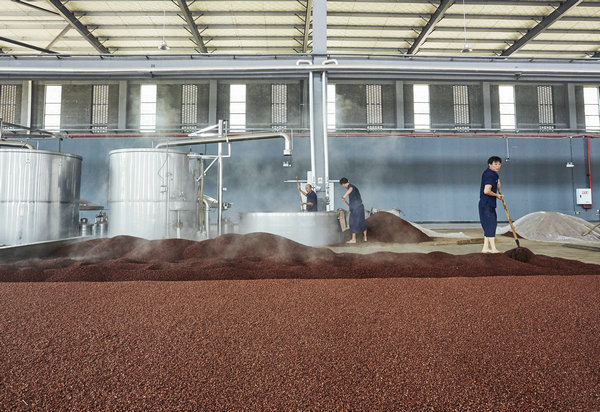 The town has long been a thriving wine brewing site thanks to its weather.
In addition, the sorghum grown locally, in soil rich in selenium using water from the Lyuzi River, has a natural sweet taste that makes for very good wine.
More than 300 wineries used to line the Caofang street, roughly 20 minutes from Lyuxi Winery, in the early Qing Dynasty (1644-1911).
And in 1915, the street was home to roughly 230 wine workshops, altogether producing 5 million liters of liquor a year.
Now, Lyuxi is the only one of those time-honored facilities that has survived the passage of time.
"Wine produced here gives off more fragrance and carries a sweet aftertaste," says Wang, who began learning about traditional winemaking from the age of 17.
Wang, who was designated an winemaking expert in 2011 under Chongqing's intangible cultural heritage program, does everything the old-fashioned way, from wine brewing to the tools he use.
"I try to ensure that the wine retains the flavor of the Ming Dynasty," he says.
All the equipment, including the distiller, the condenser, the ventilation box and the fermentation bucket are made either of wood or bamboo.
"Wood absorbs more of the microorganisms, which increases the wine's fragrance during the brewing process," says Wang.
Workers in gray garments are busy stirring the steamed sorghum with steel forks, taking it out with bamboo winnowing fans, or sweeping the floors at the winery.
"Everything is done manually," says Wang.
The whole process has 10 steps and is a continuous cycle, which calls for intensive work.
For instance, winemakers need to soak the sorghum in water and raw wine in a pool for a night right before they get off work.
Then, they boil the soaked sorghum steam in the morning before placing it on a perforated bed to cool.
Fermentation then follows, usually taking five to 20 days.