Carving a fresh path through 'sea of death'
Share - WeChat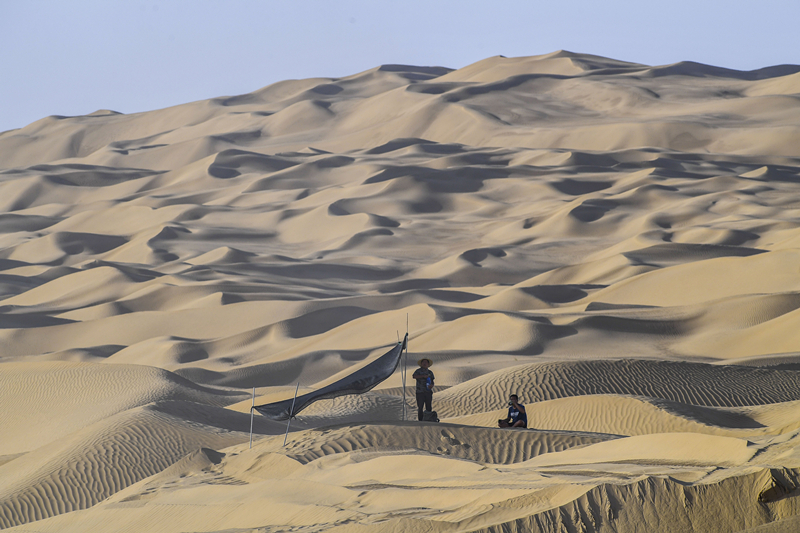 Workers are building only the third paved artery through the Taklimakan Desert to help people and products move more freely
Five bulldozers were working on the side of a 9-meter-high dune. In one of them sat Zhang Xiaodong, his cab swirling with sand. Fine dust had collected in the lines of his sweaty face.
The construction team is building a new road through the Taklimakan Desert, the largest desert in China, covering 337,000 square kilometers in the Xinjiang Uygur autonomous region.
When it is finished, the road will connect the counties of Qiemo in the north and Yuli in the south, becoming only the third paved artery through the vast expanse known as the "sea of death". In the Uygur language, Taklimakan translates as "go in and you won't come out".
Zhang, 47, came to work in Xinjiang 30 years ago. He cut his teeth on the roads built to transport the region's oil products.
Maneuvering the bulldozer to compress sand and create the road's surface is second nature to Zhang. He said the job comes with a healthy paycheck but also involves extreme heat, limited water, poor access to electricity, and a bad phone signal - not to mention sandstorms.
"I'm from Sichuan province, a place with green hills and clean water. But I've spent most of my life in the sand," he said. As well as Xinjiang, Zhang has worked in Saudi Arabia and the United Arab Emirates.