Kubuqi turnaround provides template for desert revival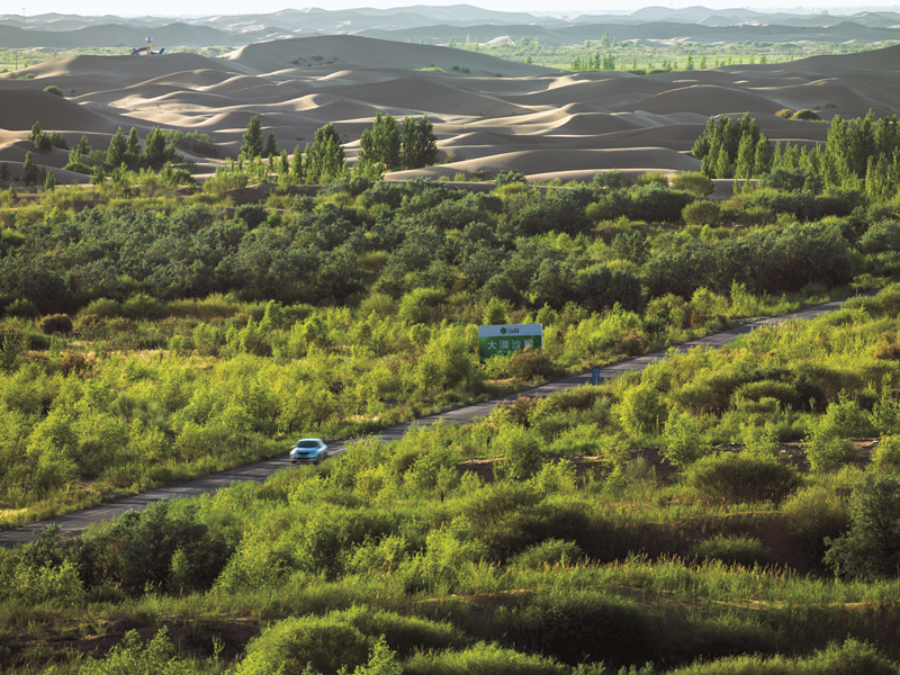 With the help of Elion's technical experts, Gao developed a method of using high-pressure water jets to drill holes in the sand, reducing the planting time to about 10 seconds per tree from an average of 10 minutes and raising the survival rate to more than 80 percent. Now his land is lush with drought-resistant trees and bushes.
To provide multiple ways of making the desert green, fertile and profitable, farmers are also encouraged to grow licorice because it can withstand drought and the nighttime cold in the desert. Moreover, the roots help to keep the soil in place and make it fertile, enabling crops such as watermelons and tomatoes to be grown. After four years, the roots can be harvested and sold for large sums as an important ingredient of traditional Chinese medicines.
"The licorice is encouraged to grow horizontally instead of vertically as in other places. Thus, it can quickly cover a square meter of land, raising greening efficiency by 10 times. So far, the area planted with licorice in the Kubuqi has reached 1,466 sq km," said Zhang Bo, deputy general manager of Elion Ecological Health Co, an Elion subsidiary.
Technological advances
Modern technology has also been employed to tame and harness the Kubuqi, which sees more than 3,000 hours of sunshine every year, making it an ideal place to install solar power farms.
Photovoltaic generators have been installed to produce electricity, while grass grown in the shaded spaces underneath the solar panels is used to feed livestock, such as sheep, geese and chickens.
According to a report published last year by the UN Environmental Programme, more than 6,250 sq km of the Kubuqi have been reclaimed in the past 30 years, while 14.5 million metric tons of carbon were removed from the atmosphere. The rainfall level soared to 456 mm in 2016, compared with about 100 mm in 1988, and the annual number of sandstorms fell from 50 to just one in the same period.