Kubuqi turnaround provides template for desert revival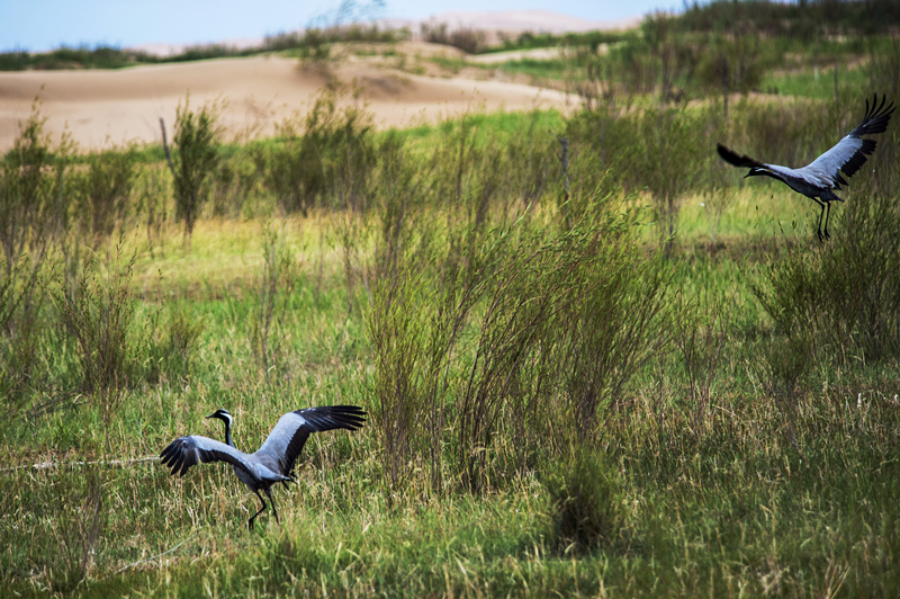 New priorities
In the 1990s, the Ordos government prioritized the development of plant cultivation to tackle environmental degradation, boost livelihoods and safeguard homes in tandem with efforts to research and develop a range of sand-control technologies.
In 1997, the government decided to build a 115-km-long highway through the desert to allow more convenient transportation of water and other resources, and the construction of an electricity network. The move enabled the locals to undertake mass planting of trees, grass and herbs.
Elion Resources Group, once a salt miner and refiner but now a green technology and finance company, joined the construction program as a way of ensuring its own survival. At the time, the salt it produced had to be transferred to the nearest railway station via an indirect 350-km-long route because there was no road through the desert. The distance was just 65 km as the crow flies.
"Frequent sandstorms swallowed a road we subsequently built, which meant all our endeavors had been in vain. It became clear that the desert had to be tamed, but that would only be possible if the local community became involved, said Wang Wenbiao, Elion's chairman.
At first, the company paid local farmers about 30 yuan ($4.40) a day to plant trees in the desert. However, the locals didn't have a financial stake in the plants' survival so most of the saplings died. When Elion began offering bonuses for trees that lasted the distance, the survival rate soared.
Gao Maohu, a 58-year-old farmer in Hangjinqi, used to travel to nearby cities to work temporary jobs because he was unable to grow enough crops on his 1.3 hectares of saline-alkali soil to feed his family. In 2000, he joined Elion's tree cultivation team without hesitation when he heard he could make money by planting saplings in his hometown.
"I couldn't ask for a better job. I make a good salary and I don't have to leave my family. I have tried every method to keep the saplings alive, and there were countless trials and errors along the way," he said.