Superstar pastry chef 's 'food porn' has Instagram drooling
Share - WeChat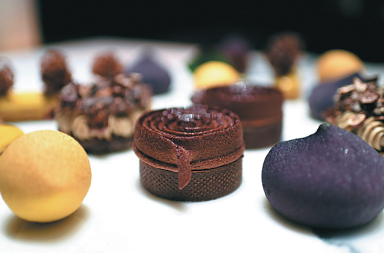 When Cedric Grolet takes out his pastry knife, millions of mouths water.
The young Frenchman, named the top patissier on the planet last month by "The World's 50 Best Restaurants" list, is an Instagram superstar.
Videos of him slicing through the exquisite fake fruit he creates to reveal their tastebud-teasing interiors get millions of views on social media.
Millions more drool over images of his glossy hyper-realistic pears, apricots, lemons, peaches and even tomatoes, with Vogue-a magazine not known for its championing of high-calorie desserts-saying they "leave you wanting to lick the screen".
"His fans cry, fall into his arms and demand autographs" and selfies, says the usually sober French daily Le Monde.
His work is pure "food porn", it declared, with only a select few getting the chance to consummate their desire every day at the top Paris hotel where he works.
With high tea at Le Meurice featuring his cakes sometimes booked weeks in advance, Grolet opened a tiny boutique there in March.
Its shelves empty within hours every day.
His Rubik's cube cake-which pivots just like the real thing-has become a cult on the fashionable Parisian dinner circuit, although at 170 euros ($200) for a cake for six, only those with the deep pockets can afford it.
Grolet has even made a blue, white and red version to celebrate France's World Cup win earlier this month.
Like the members of the French soccer team, he is something of a working-class hero.
Most Popular