Five of the best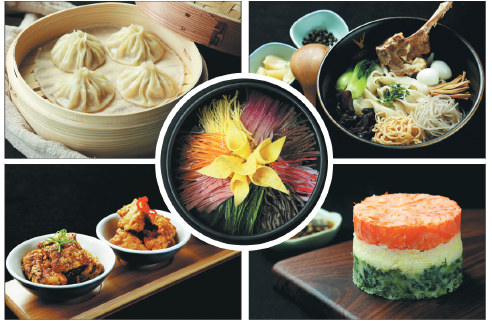 To ensure it offers up the authentic tastes of the Central Plains, a new Beijing eatery has recruited all its chefs from the same small village in Henan, Li Yingxue reports.
Cao Cao, the emperor of the state of Wei during the Three Kingdoms period (AD 220-280) is now wearing a cardigan, plaid pants, sneakers and a pair of glasses.
The image of the Chinese warlord who once conquered the Central Plains has now been redesigned as the logo for The Five, a newly opened restaurant at WF Central in the Wangfujing area of Beijing, which has the Chinese name of Zhongyuanshitang (Central Plains Canteen).
Co-founded by Gao Ran and Yu Yang, together with designer Patrick Yip and catering promoter Leo Wu, The Five focuses on food from the Central Plains, mostly Henan cuisine.
With colanders hanging from the ceiling and bamboo baskets placed artfully on the shelves, the design of Five is based on elements taken from everyday life for people in Henan province, albeit with a contemporary twist.
"Cao was also a gastronome who wrote a culinary book titled Sishishizhi, a book about ingredients and their places of origin which greatly influence Henan cuisine. So we picked him to appear on our logo," says Gao.
The logo also includes the image of a deer, which diners can find at the bottom of their empty soup bowls. "This is because one of Cao's poems mentions him hearing deer calls as he ate," says Gao. As Gao sees it, the concept behind The Five can be interpreted as either the five basic flavors - sweet, sour, bitter, spicy and salty - or the five elements that combine to make a dish, namely color, smell, taste, shape and texture.
Growing up in Henan until he moved abroad to study at the age of 18, Gao found he missed the flavors of home. The Five is Gao and Yu's second foray after opening a simple noodle restaurant in 2015 called Mianhetang, which also specialized in Henan cuisine.
Having turned down several investors, Gao and Yu decided to close the first restaurant and concentrate on developing the modern flair of The Five as a platform to promote Henan cuisine.
"We wanted it to be small and intimate, as people usually have the impression that Henan cuisine is not fashionable," says Gao.
All the chefs in the restaurant were recruited from the same small village in Henan province, Zhouzhuang in Xiuwu county. "Ninety percent of the people in that village are in the business of catering - most men work as cooks, while the women help with serving," Gao says.