Video platform helps to put people in the picture
Share - WeChat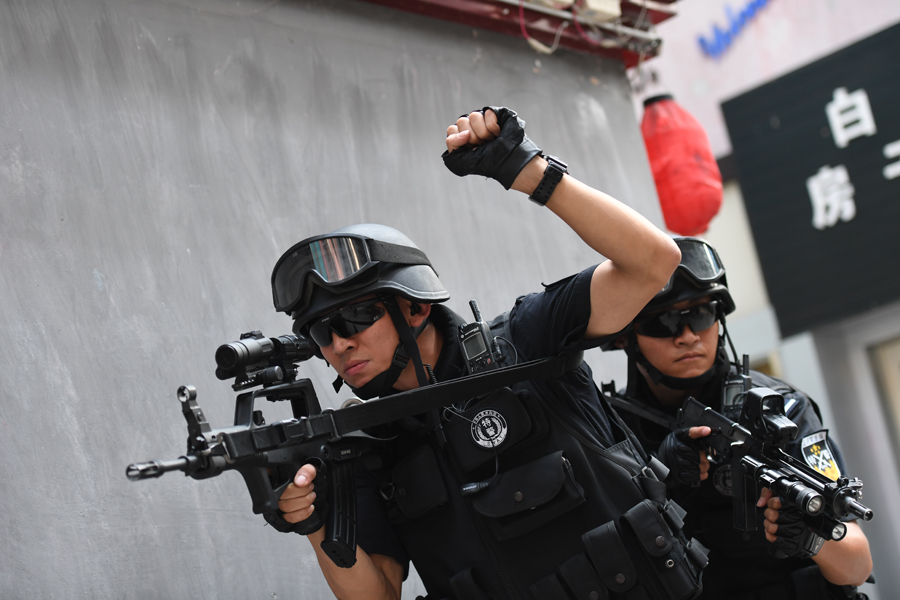 Visual explanations
"A SWAT team usually appears in exceptional situations that require increased firepower or special tactics, which means we have little contact with the people. Douyin's platform allows us to show what we have done and what we can do to safeguard society in a highly visual way-even some of our parents don't have a clear idea of what we do!" said Li Yang, who runs Beijing SWAT's account.
Many local public security departments are also active on Douyin, representing about 40 percent of all government-related accounts, according to research by Onion Thinktanks and Caas Data.
Qi Wei, deputy director of the Xingning public security bureau in Nanning, capital of the Guangxi Zhuang autonomous region, said the bureau uses Douyin for the same reason it uses platforms such as Sina Weibo and WeChat-to raise awareness of safety and encourage people to help the police maintain public security.
Zhu Wei, deputy director of the Communication Law Research Center at the China University of Political Science and Law in Beijing, said, "The government intends to create closer relations with the grassroots and gain better understanding of public opinion through short video platforms, which can promote public management and improve services."
Short video platforms are not allowed to broadcast news stories, so the government departments who use them do not mention political, economic or military issues. Instead, they provide updates about hot social issues, Zhu said.
After security bureaus, cultural and tourism departments account for the second-largest number of government accounts on Douyin.
They use the platform to promote places of interest, local customs and foods, and to position themselves as young and trendy to attract the younger generation.
Xi'an, capital of Shaanxi province and a capital for 13 dynasties, is now known as a Douyin "celebrity city" as a result of a number of videos that have gone viral. The platform said the more-than 610,000 short videos it had shown about the city had been watched more than 3.6 billion times by the end of April.
During the Tomb Sweeping holiday in April, the number of people visiting Xi'an rose by almost 40 percent year-on-year, and tourist revenue rose by about 50 percent, said Wang Lin, deputy director of the Xi'an Municipal Commission of Tourism Development.
Meanwhile, a report by travel services provider Tongcheng Tourism showed that the number of hotel reservations in the city during the holiday ranked third nationwide after Beijing and Shanghai.
"We have witnessed the magic of Douyin-it has helped bring a fresh, youthful appeal to a city known for its long history and traditions. The app has received a lot of publicity lately and it offers a fresh way of grabbing the attention of new consumers," Wang said.
"In terms of travel, the platform is not overcrowded yet, and getting onto a platform or into a market before it becomes saturated can bring benefits for years to come."
More than 70 government departments in Xi'an have Douyin accounts.
At the end of April, the city's tourism commission signed an agreement with the platform to produce four videos to raise the profile of the local culture and cuisine, and emphasize Xi'an's attractiveness as a tourist destination.
The videos show the ancient and modern sides of the city, and take advantage of Douyin's "Challenges" feature, a hashtag that users create videos around and compete to get the most views. It's an excellent way to drive user-generated content, and works particularly well for travel brands by stimulating positive word-of-mouth advertising, Wang added.
He Mang, assistant dean at Sun Yatsen University's School of Tourism Management in Guangzhou, Guangdong province, said the tourism-related content of Chongqing and Yunnan province also stand out on Douyin, which is helping to turn locations into "online celebrities". It is a low-cost, high-impact way of exploring potential tourism resources.
"On such a platform, every resident can be a brand ambassador for their city, and every short video containing local elements may trigger a communications hit. The more localized the video, the more universal the impact," He said.