Luohan to study tech's effect on society
Share - WeChat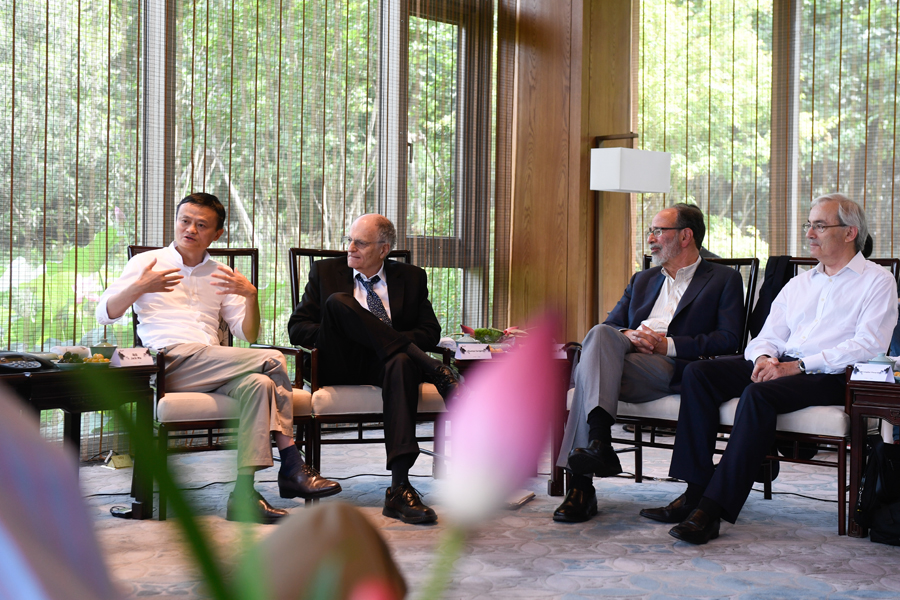 E-commerce giant Alibaba Group Holding Ltd has set up a global think tank to discuss and address emerging socioeconomic issues resulting from technological breakthroughs.
The think tank, the Luohan Academy, has roped in 15 experts for its academic committee, most of whom are world-leading economists, as the tech giant complements its global technology research house DAMO Academy to examine implications that technologies will bring to societies in the future.
The luminaries include six Nobel Prize laureates in economics such as Bengt Holmstrom, Thomas Sargent and Michael Spence.
The group joined Alibaba founder and chairman Jack Ma, as well as other company executives, for a two-day close-door meeting that ended on Tuesday in Hangzhou, Zhejiang province.
"When we look at the benefits from technology, it is equally important to understand the challenges we face and how we can work together to address them," said Ma.
"We feel the obligation to use our technology, our resources, our people and everything we have to help societies embrace technological transformation and its implications. This is why we initiated an open and collaborative research platform," he said.
In Chinese Buddhist teachings, the 18 Luohans are those who have reached a stage of higher consciousness and are free from earthly needs. These Luohans represent wisdom, courage and power.
In a mission statement signed on Tuesday, the group vowed to strengthen coordination among social scientists to better prepare mankind for the digital revolution featuring big data, machine learning, artificial intelligence and robotics.
"I think we are living through a big watershed moment … We have to think about how our society will deal with these changes …and how to use insights from tech and social sciences in order to achieve better outcomes for humanity," said Markus Brunnermeier, an economics professor at Princeton University, who is on the academic committee.
"The thoughts and voices of social scientists are not being properly heard. The initiative aims to bridge the best minds with application scenarios, real-life practices and the data needed to carry out research," said Chen Long, secretary-general of the academy.
He said the academy will recruit more top-notch multidisciplinary scholars like sociologists, psychologists and anthropologists to cover more research areas.
Meanwhile, research results could come in the form of joint report launches, group seminars and collaboration with leading research institutions, he noted.
Shangjin Wei, a professor of finance and economics at Columbia University, said he was inspired by Alibaba's mission to use technology to improve quality of life, as exemplified in the company's latest launch of a cross-border remittance service based on blockchain technology in Hong Kong, as well as the vision to initiate such think tanks which Ma hoped can outlive Alibaba.
The internet giant launched DAMO Academy last year, a global research institute focused on technological research, as a linchpin in Alibaba's ongoing efforts to sharpen its technological expertise in realms such as artificial intelligence, cloud computing and quantum computing.
DAMO announced in April it was developing a new neural network chip called Ali-NPU for AI inferencing in the fields of image processing and machine learning.
Last month, its quantum computing lab developed the world's most powerful quantum circuit simulator Tai Zhang, claiming to challenge the one developed by Google Inc.