A lifetime searching for cures to end the scourge of malaria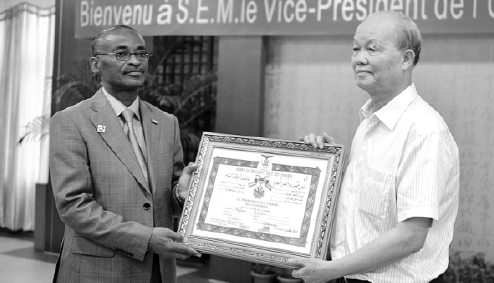 Veteran researcher from long line of TCM practitioners is devoted to finding treatments for diseases plaguing mankind
Although he will be 82 years old this year, Li Guoqiao still works late into the nights on his lifelong quest to apply compounds derived from traditional Chinese medicine to treating malaria and cancer. He works so late that he says coffee is his favorite food.
"My father, my grandfather and my great-grandfather were TCM practitioners," says Li, chief professor at Guangzhou University of Chinese Medicine." TCM is based on thousands of years of experience and is effective against specific diseases. Malaria is the number one killer in infectious diseases, and cancer is number one in noncommunicable diseases. So I chose applying TCM to these two as my lifetime target.
"I have seen many poor families die of malaria in Hainan and Yunnan, plus in Cambodia and the Comoros and throughout Africa. The disease takes the lives of young children. It tears families apart. I felt I must find the quickest and cheapest way to eliminate it," Li says.
In the late 1960s, Vietnam requested help from the Chinese government to fight malaria. In 1967, a research program called Project 523 tested many compounds and approaches based on TCM. Eventually, the team was able to isolate the active ingredient artemisinin from the sweet wormwood shrub, which traditionally has been used to treat malaria.
In the early stages of Project 523, artemisinin was shown to be effective in clearing the malaria parasite from laboratory rats. Li's major contribution was to show that artemisinin was highly effective in curing human malaria patients, especially those infected with strains of the malaria parasite that were resistant to previous frontline drugs. Artemisin quickly cleared the parasites from the blood of malaria patients more rapidly than any other anti-malarial drug. A key factor is that it was able to pass the blood-brain barrier and cure patients infected with often-fatal cerebral malaria.
Li, who taught acupuncture at the university from 1961 to 1967, was initially assigned to examine whether acupuncture could be effective against malaria. After 1969, he even infected himself with malaria, but found that acupuncture was ineffective.
"I turned to doing research on cerebral malaria patients for four years and found some new ideas that were not even in the textbooks," he says.
"In October 1974, the director of the 523 project went to the county in Yunnan where I worked and handed the project of researching the clinical effects of artemisinin to my team. We quickly confirmed its effectiveness, after which I was engaged in the research of artemisinin for the treatment of cerebral malaria for years, and I was the first one to do clinical tests of it," Li says.
He recalls an especially memorable case from that time: "At 9 pm, I received a call from a hospital in Gengma county, a remote part of Yunnan province. The patient had cerebral malaria and had a stillbirth at noon. She had lost a lot of blood and could not be transfused. She had been given a dose of artemisinin, but was still near death. Maternal cerebral malaria has the highest fatality rate.
"A lab technician and I spent the night preparing blood serum and drugs. We caught a bus at 5 am and arrived at the foot of the mountain at 8 am. We hiked up the mountain and finally arrived at the hospital at 9 pm and continued the artemisinin treatment. The patient came out of the coma 50 hours later and was found to be negative for the malaria bacteria within 72 hours."