Lens maker has farsighted vision
Share - WeChat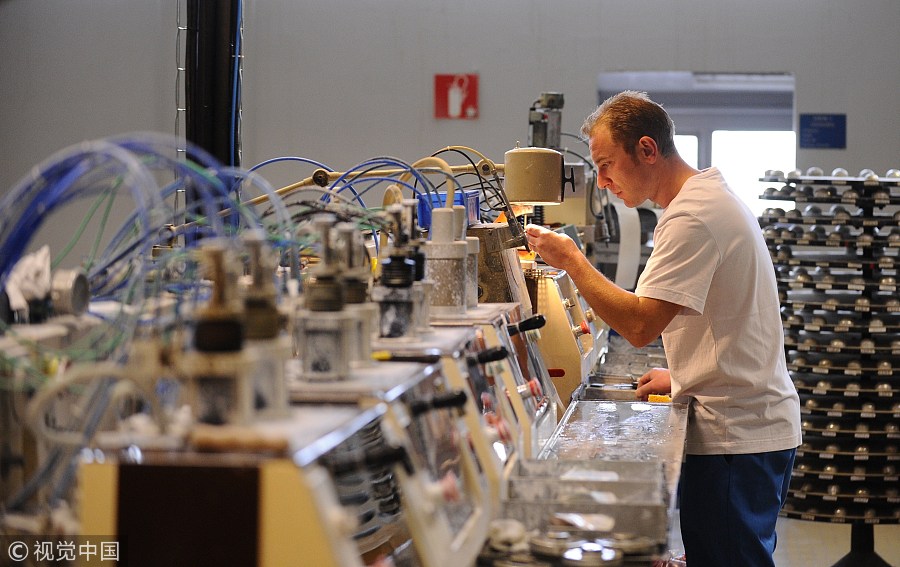 Head of Essilor talks about forthcoming tech advancement, including a smartphone app that can detect eye problems
The most earth-shattering news in the eyewear market recently is undoubtedly the merger announced in early 2017 between French lens maker Essilor and the Italian eyewear frame maker Luxottica-both the industry No 1 in their respective sectors.
By mid-December 2017, European Union antitrust regulators were set to clear the 46 billion euro ($56.6 billion) merger without asking for concessions. The deal would create a company that makes products from Ray-Bans to Giorgio Armani frames and has its own major eyeglass retail outlets.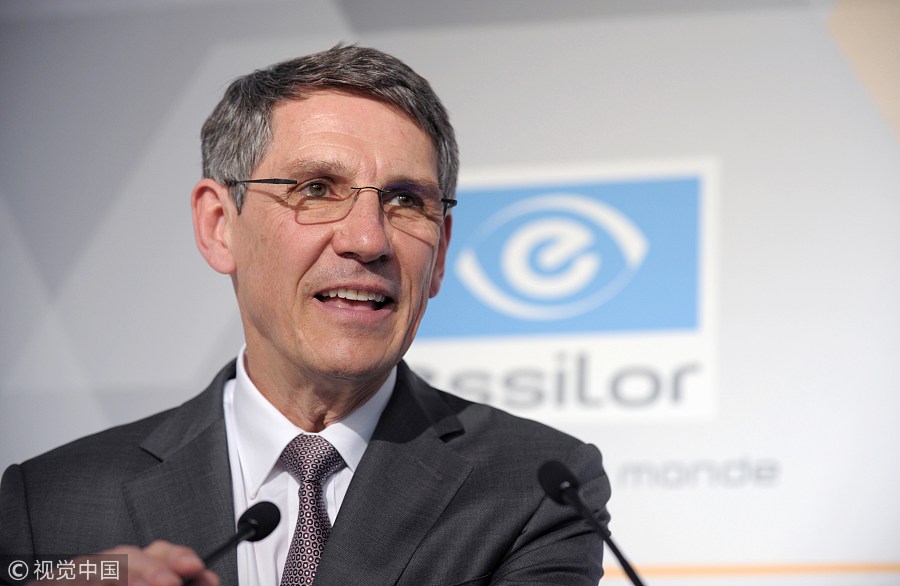 Hubert Sagnieres, chairman and CEO of Essilor, is actively advancing the merger. To him, this is vital for the eyewear industry because there is not yet a powerful leader.
Passionate about the career to which he has devoted years, Sagnieres is very much concerned about people's inadequate awareness regarding vision.
He quotes numbers from time to time to show the seriousness: Out of the 7.3 billion people in the world, roughly 4.5 billion have a visual problem. And 2.5 billion of them do not have access to eyewear products or treatment services. The cost of poor vision is around $300 billion every year, which he describes as "insane".
But he is also optimistic about the forthcoming changes brought about by technology advancement. He foresees a time soon when people will come to a general, worldwide realization that visual health matters, in the same way appreciation for dental health became so prevalent 20 years ago.
In an exclusive interview with China Daily, Sagnieres talked about his understanding of the Chinese market, his predictions for the eyewear sector and his passion for this industry.
What are the reasons for the partnerships with two Chinese companies-Photosynthesis Group and Jiangsu Creasky Optical?
We entered China in 1995. Now, 800 million Chinese people need vision correction but only a few hundreds of them have really corrected their vision. The biggest vision issue in China is myopia. To that end, our first purpose in China is to enlarge our capacity of production. That's why we have done a number of partnerships in the past few years.
But we have a unique way of doing business. We do not do acquisitions in China but rather partner with local talents. We identify companies which have developed some unique businesses and take a piece of equity of their businesses. We will give them support in marketing and technology so that they can develop their business.
Essilor is actually running more than 600 of that type of equity partnerships in the world. In China today, we have 12 such types of partnerships.
How can your Chinese partners leverage Essilor's assets and expertise?
We are doing two things-helping the local brands to go into optics and taking the brands internationally.
With all our knowledge and experience, we are helping them to deliver more quality products in vision. For example, Bolon was mainly in the sunglasses sector. Now, Bolon has started to provide optical products with our technology.
We are also helping Bolon to go abroad. We strongly believe that we have to take strong middle-class domestic Chinese brands worldwide. So in the past two years, if you are traveling in airports, you can see Bolon everywhere, even in JFK. We have invested heavily in such publicity. We are also opening stores of Bolon brand in Canada, France and the United States.
For the two partnerships, we are also following the same route. We are developing optical lines of products with their brands and helping them to develop internationally. We would like to help them transform their design and adapt their products to the more international customers of America or Europe.
Do you have any specific business models in China?
Yes. One is the village doctor. Decades ago, they were called barefoot doctors. They have evolved over time in the remote areas of China, taking care of the people living there.
There are 1.3 million village doctors. They belong to hospitals and go into the countryside, taking blood pressure, registering the health conditions of everyone.
We are training them to do some eye tests. We are also selling them eye lenses for basically eight to 10 yuan ($1.26-1.58). They make a little profit by reselling them to the villagers for about 20 to 30 yuan each.
Also, in some remote areas of China, there are some small healthcare centers providing services like massage. We train these staff for a week to sell eyeglasses as a supplement to revenues.
For many places where there is no optical source, there are always some China Mobile rechargeable stations. We train the owners and the employees for one week on optics and make them able to do a very simple eye test, so that they can actually recommend eyeglasses.
This is the type of business model that we have developed in about 46 countries in the world where the points of sales are missing. Opening stores is very complicated and costly. But we leverage some of the other resources.
What are the products frequently sought out by consumers in the first-and second-tier cities in China?
One is the product called Eyezen, which is especially popular among the so-called millenials. For this, we have the selective blue cut, which is a filter that can cut the blue ray.
There are both good and bad blue rays. The good blue rays go into the brain and keep people awake at day and sleepy at night, helping people to regulate their life cycle. So we have developed a specific kind of filter which can let the good blue rays coming into the eye and the brain eventually, but cut the bad ones that would cause black spots on the retina.
For children, one of the biggest solutions is Ortho-K contact lenses. Children wear them at night as a kind of treatment and they will not need to wear glasses in the morning. It's extremely efficient. It's for children 4 to 14 years old.
What do you think are the major challenges of your company's operation in China?
First is accessibility. In China, we have one store for 30,000 people. But the normal situation worldwide is one store for 7,000 people to ensure good services. So we are missing like 50,000 stores or access points, which means a mix of online and offline stores. But over time, people will need refraction or examination for their vision, so that we need to have that kind of store to know at which stage the user is.
The second is about education. People should be aware that good vision is not granted for life. Parents should have their children's vision regularly checked. Myopia management is always important in China.
How are online sales going in China and globally so far?
Today, online sales contribute about 7 percent to the company's sales worldwide, which is about 500 million euros. But our online sunglasses activity represents today 20 percent of all our sunglasses business.
It's a little less in corrective lenses in China. Purchasing eyeglasses in China is still complicated because of the eye exams. But online sales of sunglasses is much more in the country.
We are boosting (online) with various programs. We are selling on all the platforms such as Tmall, Taobao, JD and VIP. We have launched online stores for sunglass brands like Bolon. We are also hooked onto many mobile phone applications, one of which can help consumers try on our eyeglasses online.
What prompted the merger of Essilor and Luxottica? How is it going so far?
We have filed antitrust in 20 countries and so far, 11 countries have given us the green light. The merger is likely to complete at the end of the first semester in 2018.
We are on a journey of eradicating poor vision in the world. We have the lenses and the technology. But Essilor is not in fashion. Consumers want a pair of fashion frames. Even though we now have several Bolon stores, we are still not an expert in opening stores. The world needs 400,000 new stores to give consumers the access, while Luxottica is an expert.
The optical industry is so important to people's lives. But there is no industry leader. The industry is now 100 billion euros in value. Essilor is the leader in lenses, which is only 8 billion euros in revenue. We have no voice. With this merger, I would like to give vision and voice to this industry.
What are your predictions for the future trend of this industry in the next few years?
People will be able to take the eye exam with their smartphones.
A year ago, we launched a massive contest to all the geeks making the apps in the world, which is called the "see change challenge". Now we have narrowed down to 15 technologies that actually work. The most exciting app is the one using big data analysis. With just a picture taken for your eyes, the ways your eyes are in the picture go to the cloud and are later analyzed versus millions of other eyes. The doctor can detect from that the patient's need in vision correction.
Then, by applying a little bit of artificial intelligence into the iPhone on analyzing the picture, the doctor can go a step further in terms of the accuracy of the data. We have sent hundreds of so-called eye ambassadors in the world who go to the very remote areas and take pictures of people's eyes.
So in the future, when people just need a little formula to choose contact lenses or to pick up the right frame, they can take the exam just on the smartphones. The change is not in the next 10 years, but just the next few years.
CV
Name: Hubert Sagnieres
Age: 63
Nationality: French
Education:
Bachelor's degree in economics from the Ecole Centrale de Lille
MBA from the European Institute of Business Administration (INSEAD)
Work Experience:
2012-present-Chairman and chief executive officer of Essilor
2010-2012-Chief executive officer of Essilor
2006-2009-President of Essilor Europe and North America
1996-2005-President of Essilor Laboratories of America
1991-1996-President of Essilor Canada
1989-President of International Marketing at Essilor