Strengthening Chinese, French firms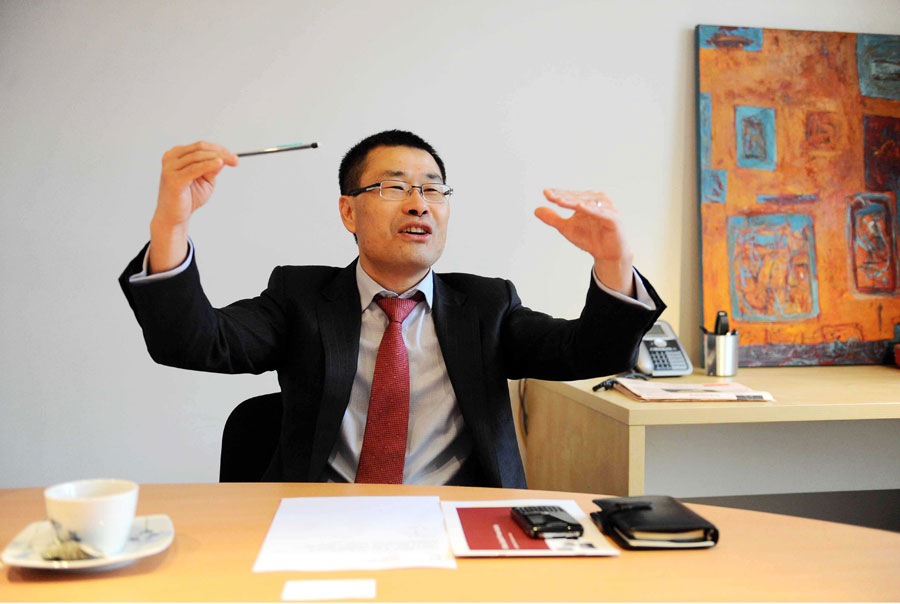 Cai Mingpo leads Cathay Capital Private Equity's investments in China with long-term focus
Back in the 1990s, Cai Mingpo, 48, was just a "poor Chinese student" in France. Today, he helms the $2 billion Cathay Capital Private Equity.
During his journey from student to president of a PE fund, Cai persuaded a French politician, a former minister, to join Cathay Capital. French media calls him "a miracle". He is often seen chatting and laughing with dignitaries.
Cathay Capital is the first Sino-French PE firm approved by French financial markets regulator AMF (or Autorité des Marchés Financiers). It aims to facilitate international growth of businesses in the two countries.
Born and raised in a village in China's southeast, Cai resigned his job as a teacher and rode the early wave of Chinese who emigrated to France to pursue higher education.
For them, life was not easy. To self-fund his studies, Cai, then in his twenties, worked as a dishwasher at a Chinese restaurant. Eager to learn French, he listened to local radio a lot.
"When I went to France, I was a poor student, all alone in a strange land. But people were willing to make friends with me and to offer me help. I think that's because of my 'fierce sincerity'," Cai said reminiscing in his Beijing office.
Cai lives his motto-utmost sincerity. It is necessary to "try hard" to let others know your sincere and simple intentions, he said.
After graduation, Cai started his career as a professional manager, and then became a gravestone manufacturer. In 2006, he and Edouard Moinet, a PE expert, co-founded Cathay (which refers to China in the age of Marco Polo), a fund targeting French and Chinese small and medium enterprises.
On his firm's mission, Cai said, "We at Cathay Capital differentiate ourselves with an ideal cross-cultural team, strong knowledge of Chinese and French business environments, the efficiency of our cross-border networks and experience in capital markets. We're ready to use outstanding financial engineering skills and business expertise to help companies thrive in new markets.
"In China, we'd like to be a long-term partner for an increasing number of Chinese companies who are seeking an overseas foothold."
Sincerity and perseverance helped Cai climb the business ladder quickly, said those close to him.
In 2007, several French enterprises and organizations, such as Group SEB, the Auchan Group, and Bongrain Group, contributed to Cathay Capital's first fund.
In 2012, the Sino-French SME fund was established. China Development Bank Capital and France-based Public Investment Bank (or Banque publique d'investissement, short for Bpifrance) were cornerstone investors, with Cathay Capital responsible for fund management.
In partnership with CDB and Bpifrance, Cathay Capital has launched five funds, aiming to support the development of French and Chinese companies, especially in their international expansion.
So far, the PE firm manages eight funds, with offices in Shanghai, Paris, Beijing, Munich, New York, San Francisco and Tel Aviv. It has invested in more than 80 enterprises in such fields as healthcare, internet, manufacturing, automobile, and has exited about 30 companies in the form of initial public offerings or acquisitions.
Such deals remain in the "top tier" of institutional investors, said Cai.
For instance, Cathay Capital's first fund yielded an internal rate of return or IRR of above 25 percent, Cai said. IRR is a method of calculating rate of return.
Cai said Cathay Capital made as much as 50 times its initial capital on the deal of Suofeiya Home Collection Co, which went public on the Shenzhen Stock Exchange in 2011.
Thanks to these achievements, the French media label Le Points hailed Cai as "a miracle" and "the talk of the town" who works "with prestigious financial institutions".
Cai is looking at more opportunities in the China market, especially in sectors like healthcare, consumer products and automobiles.
The level of consumption in China is rising rapidly on demand from the new generation, said Cai. "They prefer personalized services. Companies can build their image through social media. Products and services that attract consumers fit into their pursuit of goodness and beauty. For example, designers and chefs now not only have an international mindset but also are deeply rooted in this land (China)."
Asked about the recipe for success, he said, "Simplicity is the ultimate sophistication ... As a professional PE firm, what we do is get a thorough understanding of companies and industries, so as to accurately grasp the new trends. In this way, we can gain trust and respect from investors, portfolio companies and rivals."
Cai likes to circle holy mountains in Southwest China's Tibet autonomous region. "I'm a person close to nature, and I'd like to live a simple life."