Chinese smart wearable device maker Huami debuts on NYSE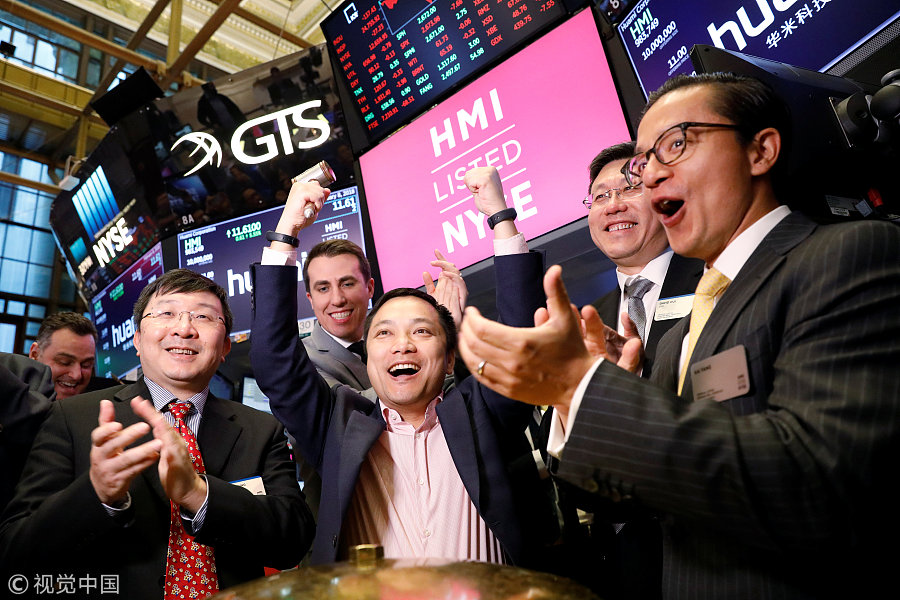 NEW YORK - Chinese smart wearable device maker Huami Corporation rang the New York Stock Exchange (NYSE) opening bell Thursday in celebration of its Initial Public Offerings, notching the first NYSE IPO of a Chinese company this year.
Huami, trading under the ticker symbol of "HMI," priced its IPO of ten million American Depositary Shares at $11, well within the planned $10 to 12 share range.
Credit Suisse, Citigroup and China Renaissance are the joint book runners.
Shares of Huami rose 2.27 percent to close at $11.25 apiece on Thursday. All three major indices plunged on the day, with the Dow plummeting more than 1,000 points to close 4.15 percent lower at 23,860.46.
Huang Wang, founder, chairman and CEO of Huami, defined his company as a biometric and activity data-driven one. He said the money raised will be primarily used in research as there are many more types of wearable devices being developed in the company's lab.
Huang added that as global demand for wearable devices has been increasing rapidly, the company is eyeing for global expansion. The major growth driver for the company will be the Southeast Asia market.
He told Xinhua that the company's vision is to lead the trend of global wearable devices and the changing perception of healthy lifestyle.
Smart wearable market has been growing rapidly in China with significant growth momentum. The company shipped 11.6 million units of smart wearable devices in the first nine months of 2017, more than any other company in the world, according to Frost & Sullivan.
Huami has been the sole partner of Xiaomi Corporation, a mobile internet company and global consumer electronics brand. Xiaomi is now one of the largest unicorn companies in the world and is expected to go public in 2018. Xiaomi and its affiliated funds are major shareholders of Huami.