IMF pegs China growth at 6.6%
Share - WeChat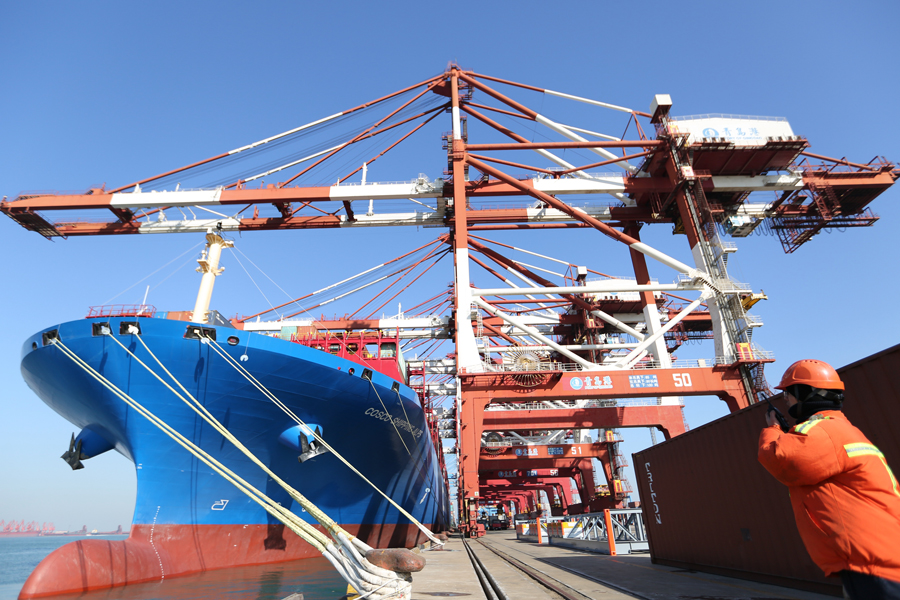 Multilateral agency says economic momentum to moderate gradually
China's year-on-year GDP growth is projected to reach 6.6 percent this year, 0.1 percentage point higher than its previous forecast, the International Monetary Fund said in its latest report released on Monday.
Analysts said export growth will continue to be a main contributor to China's growth as investment growth is expected to weaken this year.
"Growth is expected to moderate gradually in China (although with a slight upward revision to the forecast for 2018 and 2019 relative to the fall forecasts, reflecting stronger external demand)," the IMF said in its World Economic Outlook update released in Davos, Switzerland on the sidelines of the World Economic Forum.
In its October forecast, China's growth for this year was 6.5 percent.
The World Bank said last week that it expected China's GDP growth this year to be 6.4 percent.
The IMF said the global economy is now expected to grow by 3.9 percent, up from 3.8 percent in its October projection.
"The revision reflects increased global growth momentum and the expected impact of the recently approved US tax policy changes," the IMF said.
Such a gain in growth momentum of the global economy is favorable for China's exports, which in turn will help shore up the world's second-largest economy this year, analysts said.
"The global economic growth hopefully will strengthen moderately this year and China's export growth momentum will be maintained," said analysts of Golden Credit Rating International Co Ltd in a report.
Among the three major contributors to growth, retail sales growth may remain stable and largely unchanged this year, but fixed-asset investment growth may weaken thanks to the cool-off of the real estate sector, the ratings agency's report said.
It predicted that fixed-asset investment growth will slow to 7 percent year-on-year this year, compared with 7.2 percent in 2017.
As the possibility is low for China to loosen its property price control measures, the real estate sector will see its investment and sales ease this year, the report said.
Although the expected local government reshuffle this year may lead to brisker investment activities, its effect will weaken as China has made it clear that it will pursue high-quality development, and, as a result, the reshuffle will not provide a significant boost to investment growth, the report said.
While growth may dip, China will also face the challenge of handling financial risks posed by such factors as increasing debt, high leverage levels, and shadow banking this year, analysts said.
"It has become unprecedentedly important for China to safeguard the bottom line of forestalling systemic financial risks," said Liu Dongliang, an analyst of China Merchants Bank. "On the whole, strengthening (financial) regulation will become China's policy choice in the coming years."
Although it may affect short-term growth, strengthened financial regulation will contribute to China's medium-term growth, economists said.
"Sustaining rapid growth over the medium term is very possible," John Litwack, World Bank lead economist for China, told China Daily in an interview last week. "Successful deleveraging and containing financial risks will be important for achieving this goal in the medium term."