Xi's vision pertinent for Davos this year
Share - WeChat This time last year, President Xi Jinping made two historic speeches in Switzerland during a state visit. One was delivered in the ski resort of Davos, where he urged the world to abandon protectionism and isolationism while calling for an open economy, free trade and globalization. The other was made in the UN's Geneva headquarters, where he proposed a shared future of humankind by collectively coping with global challenges.
One year on, what Xi proposed will be highly pertinent when US President Donald Trump joins more than 3,000 politicians, business elites and opinion leaders from around the world at the tiny Swiss town for this year's gathering of the World Economic Forum.
Possibly by borrowing ideas from the two speeches, the organizers have set "Creating a Shared Future in a Fractured World" as the theme of the forum, to be held from Jan 23 to 26. While Trump will deliver an address before the close of the four-day meeting, Indian Prime Minister Narendra Modi will deliver a kick-off speech.
The meeting comes at a time when the Trump administration challenges the current global governance and British Prime Minister Theresa May, who will also attend the gathering, has entered a difficult stage of the talks to separate the United Kingdom from the European Union. The division between Europe and the United States is widening, and the relationship between Russia and the West continues to sour.
"Our world has become fractured by increasing competition between nations and deep divides within societies," says Klaus Schwab, founder and executive chairman of the World Economic Forum.
"Yet the sheer scale of the challenges our world faces makes concerted, collaborative and integrated action more essential than ever."
Schwab says this year's meeting aims to overcome these fault lines by reasserting shared interests among nations and securing commitment by multiple stakeholders to renewing social contracts through inclusive growth.
Participants will explore the root causes of, and pragmatic solutions for, the many political, economic and social fractures facing global society today, he adds.
China's presence
Following President Xi's appearance in Davos last year, Liu He, who was elected as a member of the Political Bureau of the Communist Party of China Central Committee in October, will head a delegation at the forum and is expected to shed light on the trends of China's economy.
Liu is expected to "not only share his insights on China's economy ... but also explain the global implication of China's economic policies," says David Aikman, the World Economic Forum's chief representative officer in China.
Liu has long worked as the top economic policy adviser for China's leadership by heading the General Office of the Central Leading Group for Financial and Economic Affairs, which is responsible for mapping the country's economic policies.
Liu, who is scheduled to speak at a plenary meeting in Davos, is expected to explain the rationale behind China's shift to high-quality growth while maintaining a sustainable speed, and how it will continue to contribute to global growth.
Regarding Trump's attendance, Aikman says the US president probably will not only focus on "America First" policies, but also attend other meetings and dialogues at the forum.
Among other officials, Carrie Lam Cheng Yuet-ngor, chief executive of the Hong Kong Special Administrative Region, and Xiao Yaqing, head of the State-owned Assets Supervision and Administration Commission, will also join Liu at the forum.
Jin Liqun, president of the Asian Infrastructure Investment Bank will join other international organizations' chiefs to shape the new policies or consensus of global development. In total, there will be up to 140 Chinese participants out of the total of 3,000 participants.
Aikman says Chinese business leaders from various sectors, such as energy, infrastructure, financial services and digital economy, will help shape the debates and narratives in Davos on how to deal with global challenges.
Xu Jinghong, chairman of Beijing-based Tsinghua Holdings Co, says China's businesses have shown great passion for expanding cooperation worldwide, especially in exploring new growth engines, scientific breakthroughs and innovation development.
Xu says China has entered a new era after holding the CPC's 19th National Party Congress in October, and "the potential for development will be greatly released" with various policy tools being put in place.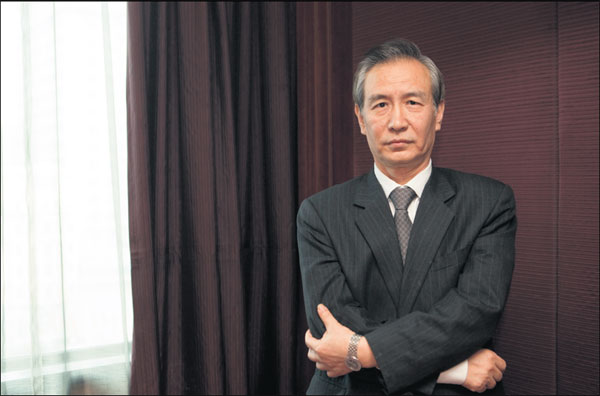 Inspiration continues
Kevin E. Lee, executive vice-chairman of Shanghai-based China Minsheng Investment Group, says he was present when President Xi delivered his speech last year and is still inspired by Xi's global governance vision.
The phrase "responsibility of our times", mentioned last year by Xi, impressed Lee the most. While pursuing growth, the question of how to make growth benefit more people is an important one, says Lee, adding that in the past year, poverty reduction and environmental protection initiatives have made tremendous progress in China.
He says China's continuous progress on reform, economic openness and the Belt and Road Initiative demonstrates the country's determination to take on more responsibilities and contribute to more inclusive economic growth.
"For companies both in China and worldwide, this is a positive sign and means opportunities in a series of sectors in relation to the improvement of people's livelihood," says Lee.
Feike Sijbesma, CEO of Dutch multinational Royal DSM, says China has developed a unique economic and societal development trajectory, which resulted in it becoming world's second-largest economy after almost four decades of reform. He also says China has taken on more responsibility on the global stage in recent years.
Sijbesma says he is also encouraged by the fact that China is a solution provider. "DSM views the Belt and Road Initiative as an important part of China's strategy to strengthen cooperation, innovation and globalization as it builds on connecting the competence of many to create a stronger chain for all."
He adds that China is determined to continue its economic growth, developing further prosperity for all people in China by shifting the economic development growth model from a manufacturing-based economy to one based on innovation and the service industry.
"By doing this, China is also convinced to contribute to create a better world, taking its responsibility as a world leader," says Sijbesma.
In the past year, China has played an increasingly important role in global politics, economic development and cultural development, he adds.
"It has demonstrated its leadership role on the global stage," says Sijbesma, adding that it is regrettable that the United States decided to withdraw from the Paris climate agreement.
Chris Rowley, professor of Kellogg College of the University of Oxford, says President Xi has aimed to move China more toward the global center stage, defending free trade and economic globalization and warning against trade wars.
In a globalized world, only international cooperation can solve big problems, including the environment, terrorism and nuclear disarmament, while isolationism should be resisted and big countries should treat smaller ones as equals instead of imposing their will on them, Rowley says.
Alexander Machkevitch, chairman of the board of directors of Eurasian Resources Group in Luxembourg, says it was inspiring to see President Xi make the case for more international cooperation and pledge that China will keep its doors open to international investors.
"Globalization, however, is under fire in some parts of the developed world," says Machkevitch. "This is a worry for us."
Machkevitch says such initiatives as the China-led Belt and Road Initiative and the Asian Infrastructure Investment Bank could very well come to be seen as modern counterparts of the US economic initiatives after 1945.
"China and others will be able to use these platforms to facilitate the next phase of globalization," he says.