Dunkirk storms China's cinemas with immersive storytelling
Share - WeChat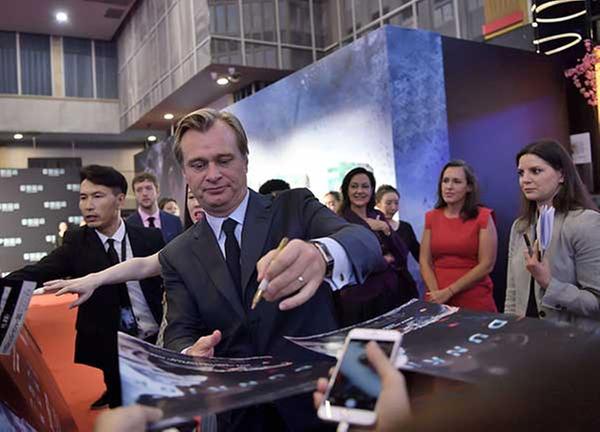 Christopher Nolan promotes latest film Dunkirk in Beijing.[Photo/Xinhua]
Director Christopher Nolan's name in the marquee is a huge draw for Chinese audiences
With his latest war film Dunkirk, Christopher Nolan yet again has his name buzzing across China. As of Sunday, only its third day of public screening in the Chinese mainland, the film had already raked in over 197 million yuan ($30.1 million).
On Douban, a major Chinese film rating platform, Dunkirk is currently rated 8.6 out of 10, sitting comfortably in the top 10 percent of both war and history films.
For many Chinese fans, the director was the main drawcard.
"I went to see the film because of Nolan," says Huang Ziyun, a moviegoer, whose opinion was echoed by many others. "His films have always delivered, so I had faith and high expectations in this one."
"I'm also very interested in films that depict history," she says.
The film did not disappoint. Telling the story of the evacuation of British and French soldiers who were surrounded by the German army during a fierce battle in World War II, Dunkirk puts the audience through an immersive experience that many have found unique.
"There were many scenes that imposed an oppressive feeling on me, such as the scene where a number of young soldiers hid in a cabin which became the target for German soldiers' shooting drill," says Shen Cong, a viewer in Beijing.
"It dragged the audience to the battleground right from the get-go," says a user named QueerasfolkChina on Douban. "The three storylines overlapped one another, making us struggle and panic inside out."
He was referring to the storylines that consisted of a week for the soldiers desperately waiting for a beach rescue, a day for a family sailing from England to the rescue, and an hour for a group of fighter pilots shielding the rescue from the air, which intertwined with each other and converged in the end.
Most Popular