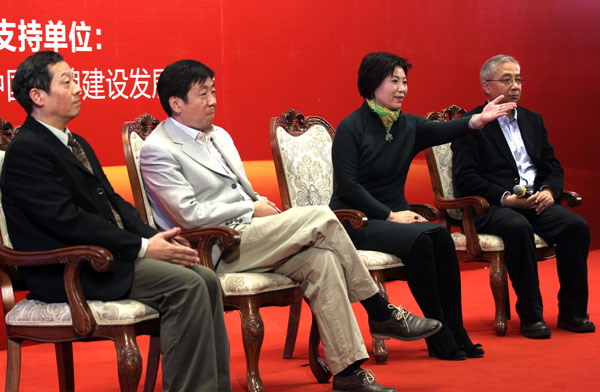 Spokespeople and experts take part in a forum to discuss China's spokesperson system. Photos by Zou Hong / China Daily


Moves are in train to upgrade China's official spokesperson system and improve communications between the government and the public, as Sun Shangwu and An Baijie report from Beijing.
When official spokesman Mao Qun'an greeted a senior editor at a recent forum at Peking University, the journalist confided that the sight of Mao always reminds him of the time a pandemic ravaged China a decade ago.

"The moment I saw you, I wondered whether there had been another outbreak of SARS," joked Ma Weigong, deputy editor-in-chief of China Radio International.
As the spokesman for what was then China's Ministry of Health - which was dismantled in March - Mao's regular TV appearances in 2003 made him an instantly recognizable figure nationwide.
"I am very flattered," smiled Mao, now the spokesman for the National Health and Family Planning Commission, the body that replaced the health ministry.
During the early stages of the outbreak, the health authorities came under fire for the slow release of information and a lack of transparency. The criticism led to Mao quickly being appointed as spokesman.
"He was always very nervous at the start of his career; you could see the sweat on his forehead. Now, however, he's much more relaxed when being questioned by reporters," said Ma, who has known Mao for several years.
The SARS outbreak prompted the central government to adopt a more open attitude toward media coverage of major crises and emergencies. In 2004, a list of 75 spokespeople from 62 departments of the State Council, China's Cabinet, was released to the public, along with the phone numbers of the relevant government offices.
In June 2010, when spokespeople from 11 Communist Party departments, including the CPC Central Commission for Discipline Inspection, were introduced to the domestic and international media, they each pledged to improve official news briefings and boost transparency. However, their performances since have been varied; some have chosen to increase the flow of information, while others remain tight lipped.
"When SARS wreaked havoc in China a decade ago, we were criticized by the public because of the slow release of information, but when the lethal H7N9 bird flu broke out earlier this year, the health authorities won the trust of the public through the timely release of information," said Mao in his speech to the forum, which was arranged to commemorate the 10th anniversary of the founding of the spokesperson system.
Emergencies and disasters were the catalysts that helped China's spokespeople understand how to communicate with the media and the public, said Mao. "The guiding principle for the release of government information can be boiled down to just one word: Transparency."