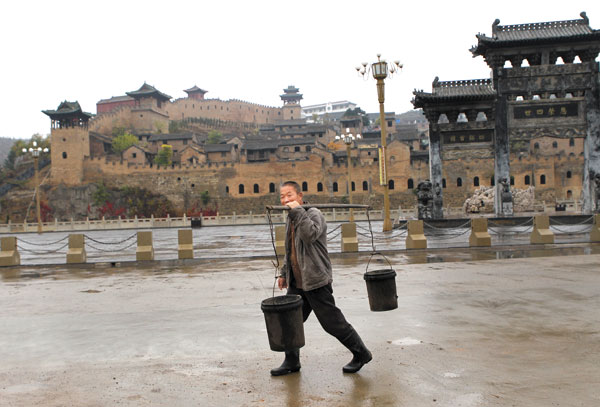 Xiangyu village in Qinshui county, Shanxi province boasts fortress-like buildings from the Ming (1368-1644) and Qing (1644-1911) Dynasties. Photos by Zou Hong / China Daily


A number of factors are to blame, report He Na and Sun Ruisheng in Shanxi province and Lin Jinghua in Beijing.
As part of humankind's historical heritage, traditional villages have high value in terms of research, architectural techniques and cultural continuity.
They can be seen as living fossils of China's agricultural and bureaucratic societies.
However, many traditional villages that were prosperous hundreds or even thousands of years ago are facing a crisis of decline, decay and even extinction.
In August, the ministries of Housing and Urban-Rural Development, Culture and Finance jointly launched a list of 915 traditional villages needing immediate help.
The list is an extension of one drawn up several years ago, but experts say the move is far from sufficient to save the villages and have called for more government help and practical protection measures.
Is it a case of survival or extinction?
China Daily reporters visited several experts, organizations and individuals providing financial support for the protection of traditional villages, plus residents, to seek their views on protection and the difficulties they face.
On a drizzling, windy November day the locals had all donned their winter clothing, but the doors of the houses in Lianghu village, 17 kilometers' east of Gaoping city in Shanxi province, were still open, covered only by thick cloth curtains that acted as windbreaks.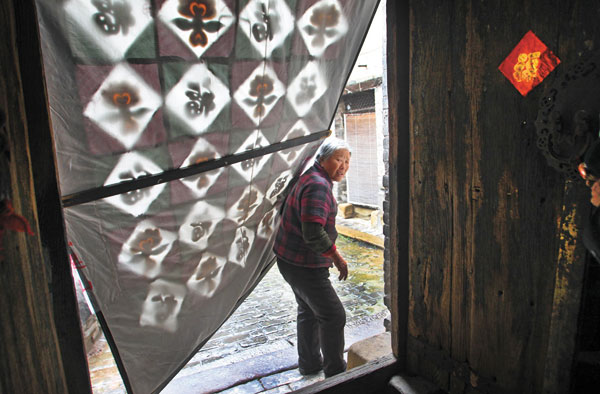 Guo Xiaoju, 73, has been living in Lianghu village in Gaoping city, Shanxi province, since she was born. Photos by Zou Hong / China Daily
Lianghu is home to some 500 households and 1,542 villagers. The history of the former transport hub dates back to the Warring States Period (475-221 BC). Tian Fengji, a high official during the Ming Dynasty (1368-1644), built a castle-style house in the village, which also features a number of temples dedicated to different gods, including those who oversee safety, childbearing and study, which coexist peacefully. The village developed significantly during the Yuan Dynasty (1271-1368) and reached its current size during the Ming Dynasty.
Seen from a distance, Lianghu's old courtyard-style houses, with the first floor for living and the second for food storage, appear well-preserved, but when you visit door to door, it's obvious that many of the gray brick walls are cracking and the dark brown wooden rails, roof and stairs are either split or partly rotten as a result of a lack of maintenance.
Walking along the narrow roads flanked by high walls, there is a distinct feeling of stepping back in time, but the sight of the new houses complete with pasted tiles on the external walls quickly brings you back to reality.
"If we had coal mines or another source of income, we wouldn't have so many dilapidated buildings here. With an increasing number of young people moving away, many abandoned buildings are in great danger of collapsing," said village Party chief Wang Yongshun, pointing at a pile of rubble and bricks. "That was once a well-built, beautifully decorated three-story house. Now all that's left is the gate. Whenever historical experts visit, they stare at the carved gateposts for a long time and murmur 'What a pity,'" he said.
Although it was noon, Zhang Jinquan's room was still a little dark. The 65-year-old sat against the wall and watched TV while his wife sliced vegetables for lunch in the dim light afforded by a carved window.
To keep warm, the couple lives and cooks in one room, but the line separating the cooking and sleeping areas is not very clear and things are scattered everywhere. Except for a few old newspapers on the wall, yellowed with age, the room has retained its original look from more than 400 years ago. Zhang's children have all married and moved away, but the elderly couple chose to stay in their home. "They thought the house was too poor and inconvenient. But for me it's better than anywhere else," said Zhang.
The couple owns a small field of 0.13 hectares, but the crops it yields doesn't even cover their medical bills, so Zhang often takes odd jobs at local businesses.