US president-elect Barack Obama Monday reiterated that he would continue to develop ties with China.
Former US president Jimmy Carter, in Beijing to attend events to celebrate the 30th anniversary of the establishment of diplomatic ties, conveyed Obama's message to President Hu Jintao when they met in the Great Hall of the People Monday.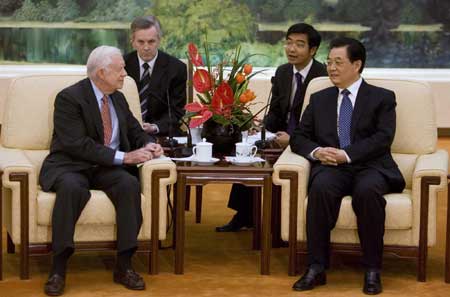 Chinese President Hu Jintao (R) speaks with former U.S. president James Carter (L) during a meeting at the Great Hall of the People in Beijing January 12, 2009. Carter is in China to celebrate the 30th anniversary of the establishment of U.S. China diplomatic relations, which began on January 1, 1979. [Agencies]
Obama asked Carter to extend his personal greetings to Hu and his commitment to the partnership of 30 years when the former president informed him of his visit to China.
Related readings:


 China, US leaders must 'meet more often'


 Views on 30 years of China-US relations


 Reception marks 30 years of China-US relations


 China, US start high-profile events to mark ties


 US envoys to China optimistic about ties in Obama era


 Hu, Carter mark 30 years of sino-US ties

 China, US agree bilateral relations as 'most important'
Hu called Obama over the phone on Nov 9 and congratulated him on his victory in the US presidential election.
Thanking Hu for the gesture, Obama told him China's development and success and US interests were related. Obama also hoped the US and China would strengthen cooperation and develop bilateral relations further.
At Monday's meeting, Hu called Carter "an old friend of China". He said: "You played an important role in establishing China-US diplomatic ties and witnessed that historic decision."
The "ping-pong diplomacy" melted the ice between the two countries, after which US president Richard Nixon paid a groundbreaking visit to China in 1972. Finally, the two countries established diplomatic ties on Jan 1, 1979.