Judy Bochenski-Hoarfrost yesterday replayed her role in the "ping-pong diplomacy" of 1971 that thawed Cold War tensions between Washington and Beijing and paved the way for the establishment of diplomatic ties.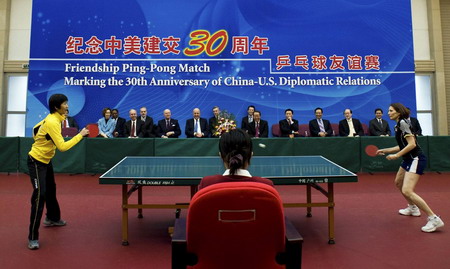 Judy Bochenski-Hoarfrost of the US (R) plays against China's Qi Baoxiang in a commemorative table tennis match as US Deputy Secretary of State John Negroponte (seated rear, 6th L) and China's Vice Foreign Minister Wang Guangya (seated rear, 5th R) watch in Beijing January 7, 2009. [Agencies]

The former member of the United States' table tennis team played a friendship match against China's former world champion Liang Geliang in Beijing to mark the 30th anniversary of China-US diplomatic relations.

Among the spectators was visiting US Deputy Secretary of State John Negroponte.

"In 1971, I was 15 and the youngest member of the US team," Bochenski-Hoarfrost said.

In the spring of 1971, teams from China and the US took part in the 31st World Table Tennis Championship in Nagoya, Japan. While chatting with Chinese athletes, the US team expressed a wish to visit China.

On April 6, 1971, Chairman Mao Zedong invited the US team to visit Beijing, and four days later, Bochenski (as she was then) landed with her teammates at Beijing Capital Airport.

She said that at the time, she had no idea how significant the trip was.

"We went to China very soon after the invitation. It was only later when I saw a picture of me with Premier Zhou Enlai on the front pages of the world's newspapers that I realized what was going on," she said.

The visit was the start of warmer relations between Beijing and Washington, and led to former US President Richard Nixon visiting China in 1972, and the establishment of diplomatic ties in 1979.

For Bochenski-Hoarfrost, it was also the start of a lifelong relationship with the country.

Over the years, she has visited any times and just six months ago, went to Huai'an, the birthplace of the late Premier Zhou Enlai, to be part of the activities held to commemorate the 110th anniversary of his birth.

Liang Geliang said that the Sino-US friendship has been passed on to a new generation.

"Many members of the first US team have passed away but I'm happy to have new rivals today," he said.

Before meeting with Foreign Minister Yang Jiechi, Negroponte said: "It (the ping-pong diplomacy) played a very important role and now, 30 years on, we have a very broad and deep relationship.