Chinese premier, French president meet on deepening ties
( Xinhua )
Updated: 2014-10-17 09:14:59
MILAN, Italy - Visiting Chinese Premier Li Keqiang and French President Francois Hollande met here Thursday and pledged to further deepen bilateral ties and expand cooperation.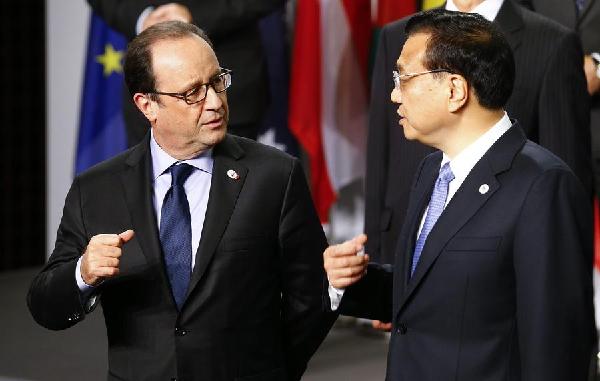 France's President Francois Hollande (L) talks with China's Premier Li Keqiang during the Asia-Europe Meeting (ASEM) in Milan October 16, 2014. [Photo/Agencies]
China and France have maintained good political mutual trust, and bilateral relations are entering a new stage of accelerated overall development, Li said in the meeting, which took place on the sidelines of the 10th Asia-Europe Meeting (ASEM) Summit.
China, he said, stands ready to work with France to further consolidate mutual trust and boost bilateral cooperation by giving full play to bilateral high-level dialogue mechanisms in such fields as economy, finance and people-to-people exchanges.
The Chinese premier urged the French side to further relax high-tech exports to China and encourage companies of the two countries to advance joint research and development, joint investment, joint production and joint exploration of third-party markets, so as to provide the world with more China-and-France-made products.
China and France hold similar positions on many international and regional affairs, and are both committed to multi-polarization and democratization of international relations, Li said.
Also, the two countries uphold the inviolability of national independence, sovereignty and territorial integrity, and the principle of resolving differences and disputes through dialogue and consultation, he added.
China, said the premier, is willing to strengthen communication and coordination with France to jointly safeguard global and regional peace and stability.
China hopes that France will play an important role in further promoting China-Europe relations, he added.
Hollande, for his part, noted that France and China share broad interests and very close relations.
France, he said, is willing to work with China to promote high-level exchanges and expand cooperation in such areas as trade, nuclear energy and people-to-people exchanges.
France hopes to strengthen communication and coordination with China on international and regional affairs, Hollande said, adding that his country will play an active role in the development of Europe-China relations.
France will adhere to the principle of "common but differentiated responsibilities" to jointly cope with climate change with China, he said.
The ASEM summit, themed "Responsible Partnership for Sustainable Growth and Security" and attended by leaders from 53 countries, adopted Croatia and Kazakhstan as new members.
The Chinese premier is paying an official visit to Italy, the last stop of his ongoing three-nation tour, which has taken him to Germany and Russia.

We will not give up search, Li vows
International hunt for missing airliner continues after fruitless six-day search