Chinese official says key China-US dialogue promotes relations
Updated: 2015-06-23 13:42
(Xinhua)
Comments
Print
Mail
Large
Medium
Small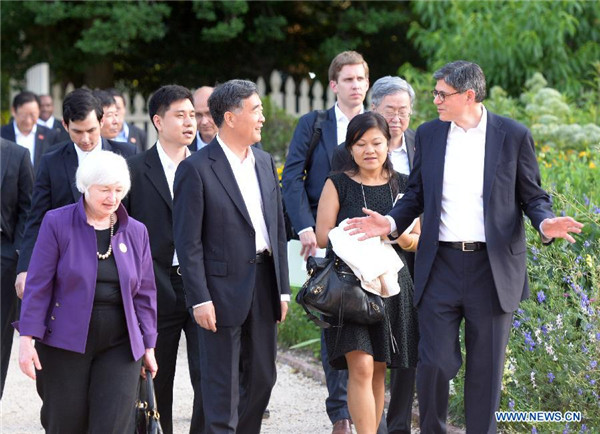 Chinese Vice-Premier Wang Yang (2nd L, front), US Treasury Secretary Jacob Lew (1st R, front) and Federal Reserve Chair Janet Yellen (1st L, front) walk at Mount Vernon, the home of first US President George Washington, in Virginia, the United States, on June 22, 2015. [Photo/Xinhua]
The two sides pledged at last year's S&ED meetings to resolve core issues and major provisions of the treaty by the end of 2014 and to initiate negotiations on the negative list, which specifies sectors and items barred to each other's investment, in early 2015.
The investment treaty will also be high on the agenda of this year's S&ED meetings, set to kick off Tuesday in Washington, after the two sides exchanged initial negative list offers earlier this month.
Experts are optimistic that the two countries could finish the treaty talks under the Obama administration, but ratification might have to wait until after the 2016 US presidential election.
The treaty will help address a number of investment concerns between the United States and China, and investors from both countries will get better access to each other's markets, cementing the foundation of China-US economic ties.
Wang said this year's S&ED meetings are of particular significance as it will lay the groundwork for Chinese President Xi Jinping's state visit to the United States in September.
The Chinese vice-premier also said he is looking forward to engaging in candid discussions with US colleagues to achieve broader consensus, better solutions and mutual success.