Chinese official says key China-US dialogue promotes relations
Updated: 2015-06-23 13:42
(Xinhua)
Comments
Print
Mail
Large
Medium
Small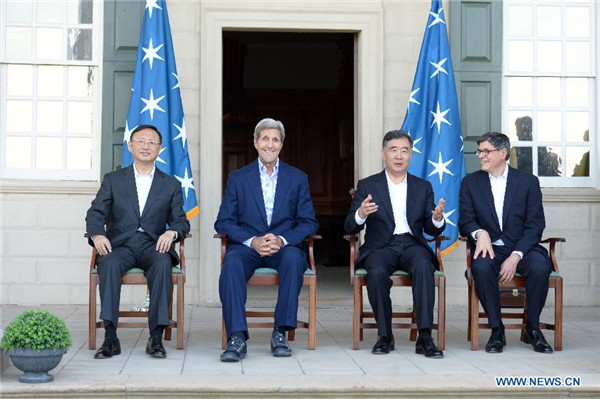 Chinese Vice-Premier Wang Yang (2nd R), Chinese State Councilor Yang Jiechi (1st L), US Secretary of State John Kerry (2nd L) and US Treasury Secretary Jacob Lew pose for photos at Mount Vernon, the home of first US President George Washington, in Virginia, the United States, on June 22, 2015. [Photo/Xinhua]
WASHINGTON - Chinese Vice-Premier Wang Yang said Monday that the China-US Strategic and Economic Dialogue (S&ED) has helped the world's two largest economies identify and expand common interests and strengthen bilateral relations.
In an op-ed carried by The Wall Street Journal, Wang said the key China-US dialogue has helped the two countries effectively manage differences and minimize their impact on bilateral relations, and also helped US leaders and the public learn more about 21st-century China.
The dialogue is a sign of the growing maturity of China-US relations, Wang said, noting that bilateral trade has doubled over the past nine years and China has become one of the fastest-growing export markets for the United States.
Over the past six years, direct investment from Chinese companies to the United States has increased fivefold, creating more than 80,000 jobs across the country, he said, adding that there's significant room for growth if there are fewer obstacles to Chinese investment in the United States.
"The convergence of interests has gone beyond many people's imagination. It is now such that neither could afford noncooperation or confrontation," he noted.
Wang said the dialogue has played a critical role in kick-starting negotiations on a China-US bilateral investment treaty that had been stalled since 1982.
The two countries reached a breakthrough in treaty talks at the 2013 S&ED meetings after agreeing to conduct negotiations on the basis of pre-establishment national treatment with a negative list approach.