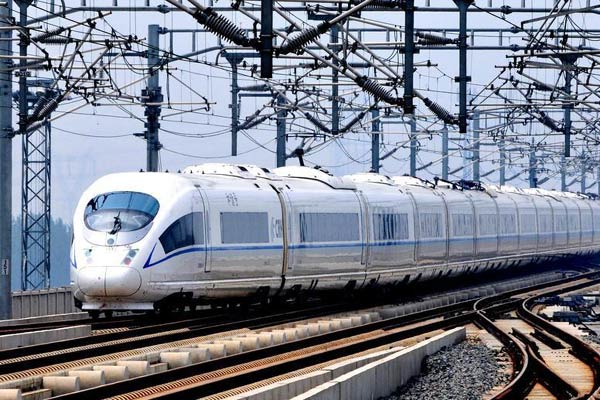 A CRH train that runs on the Beijing-Shanghai High-Speed Railway leaves Tianjin South Railway Station in North China's Tianjin, June 30, 2012. [Photo/Xinhua]
BEIJING -- The first high-speed railway project in the United States with Chinese investment involved is expected to kick off as early as September 2016, according to a senior Chinese official on Thursday.
The 370-km Xpress West high-speed railway project, also named the Southwest Rail Network, will connect Las Vegas, Nevada and Los Angeles, California.
Last week, Xpress West agreed to form a joint venture with China Railway International USA CO, to build and operate the rail, according to Shu Guozeng, deputy head of the Office of the Central Leading Group for Financial and Economic Affairs.
China Railway International USA CO is registered by a Chinese consortium led by national railway operator China Railway.
With $100 million in initial capital, the new high-speed rail line will create abundant jobs throughout the interstate corridor. Implementation of necessary regulatory and commercial activities will begin within the next 100 days.
"As China's first high-speed railway project in the United States, the project will be a landmark in overseas investment for the Chinese railway sector and serve as a model of international cooperation," said Yang Zhongmin, chairman of China Railway International Co Ltd.