China's development benefits Mongolia: Xi
Updated: 2014-08-22 22:00
(Xinhua)
Comments
Print
Mail
Large
Medium
Small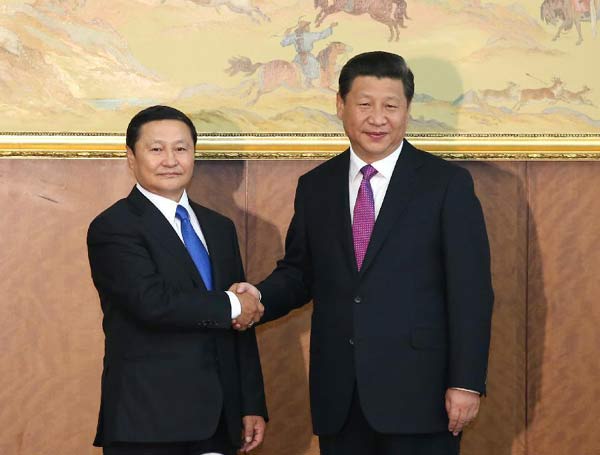 Chinese President Xi Jinping (R) meets with Mongolia's Prime Minister Norov Altankhuyag in Ulan Bator, Mongolia, Aug 22, 2014. [Photo/Xinhua]
ULAN BATOR - A more open and developed China will bring more opportunities to Mongolia, Chinese President Xi Jinping told Mongolian Prime Minister Norov Altankhuyag on Friday.
During their meeting, Xi said China is willing to join hands with Mongolia to bring into full play the newly-forged comprehensive strategic partnership between the two countries.
He urged the two sides to combine their respective development strategies and advantages with the principles of mutual benefits and win-win results, expand cooperation in mining, infrastructure and finance, and prioritize cooperation on connectivity and major projects.
The Silk Road Economic Belt initiative and the envisaged Asian infrastructure investment bank should be seen as new platforms for China-Mongolia cooperation, noted Xi, adding that the two sides should promote mutually-beneficial cooperation in more fields.
During Xi's visit, the two countries have pledged to almost double their annual trade to $10 billion by 2020.
In the meantime, the Chinese president suggested the two nations give strong support to their people-to-people exchanges, which have served as a solid foundation for the long-standing friendship between the two peoples.
Altankhuyag, for his part, said Mongolia and China are close neighbors and Xi's visit is highly indicative of the great importance China attaches to its relations with Mongolia.
The upgrading of diplomatic ties to a comprehensive strategic partnership heralds a promising future for bilateral relations, he said.
The prime minister extended gratitude for China's support and assistance in Mongolia's development, noting that China's neighborhood diplomacy featuring "amity, sincerity, mutual benefit and inclusiveness" will provide more important opportunities for its neighboring countries, including Mongolia.
Also on Friday, the two leaders attended the opening ceremony of an exhibition on China-Mongolia trade and economic cooperation, which demonstrates the achievements the two nations have made over the past 65 years since the establishment of diplomatic ties.
Xi arrived in Ulan Bator Thursday for a two-day state visit to Mongolia.
It is the first visit in 11 years by a Chinese head of state to Mongolia, and also the second time for Xi to make a one-country foreign trip since he took office in March 2013.