China, Mongolia should be trustworthy partners for mutual benefit
Updated: 2014-08-21 19:40
(Xinhua)
Comments
Print
Mail
Large
Medium
Small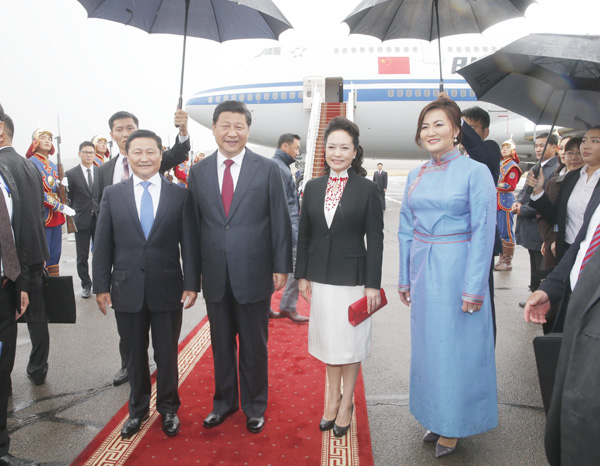 Chinese President Xi Jinping (second left) and wife Peng Liyuan (second right) are greeted by Mongolian Prime Minister Norov Altankhuyag and his wife at the airport in Ulan Bator August 21, 2014. Xi is in Ulan Bator for a two-day state visit to Mongolia. [Photo/Xinhua]
BEIJING -- China and Mongolia should become trustworthy strategic partners aiming for mutually beneficial cooperation, said Chinese President Xi Jinping, who is currently in Mongolia for a two-day state visit starting Thursday.
The proposal was brought up in Xi's signed article Thursday entitled "Galloping Toward a Better Tomorrow for China-Mongolia Relations," in which Xi put forward a four-point vision for this relationship.
FOUR-POINT VISION
"China and Mongolia should be strategic partners that are trustworthy and responsible," Xi said, adding that the two countries need to keep their relationship "in the right direction from a strategic and long-term perspective."
He specially noted that China "respects Mongolia's independence, sovereignty and territorial integrity," and is committed to the principle of "not interfering in the internal affairs of other countries" and "will not impose its own will on others."
"China sincerely hopes to join hands with Mongolia in making steady progress along the path of peaceful development on the basis of respecting each other's choice of development path and supporting each other's core interests," said Xi.
Secondly, the president said China and Mongolia should be partners that pursue and share the fruits of win-win cooperation.
"The strong complementarity between our economies makes mutual benefit the defining feature of our cooperation," said Xi.
When cooperating with the Mongolian side, China will always strive for win-win outcomes and never attempt to seek gains for itself at the expense of the other side, Xi said, adding that mutual benefit is precisely where the strength of their cooperation lies.
In the article, Xi mentioned areas of rail and road connectivity and mineral resources development and processing, where China hopes to promote its project cooperation with Mongolia.
Thirdly, China and Mongolia should be partners that visit each other often and have most sincere exchanges.
In this point, the president said China and Mongolia should "deepen the mutual understanding and goodwill between our two peoples."
Citing a series of exchange events this year on the occasion of "the China-Mongolia Friendship and Exchange Year," the president hoped that more interactions will bring the hearts of the two peoples ever closer.
"China is ready to continue to strengthen its cooperation with Mongolia in media, tourism, environmental protection and the teaching of Mandarin Chinese. We also welcome more Mongolian friends to visit China and see the country for themselves," said the president.
Fourthly, the president said China and Mongolia should be partners that work together for peace.
Both being developing countries, Xi said China and Mongolia share identical or similar positions on a number of international and regional issues.
"China supports Mongolia in playing a more active role in international and regional affairs, upholding regional peace and stability, and promoting common development," said Xi.
Xi also expressed China's support for Mongolia in joining APEC and said that China stands ready to enhance cooperation with Mongolia within the frameworks of international and regional organizations.
China attaches importance to the Mongolian initiative of "Ulaanbaatar Dialogue on Northeast Asian Security" and is ready to stay in communication with the Mongolian side regarding this initiative, said Xi.
The president also mentioned the the Silk Road economic belt and the 21st century maritime Silk Road proposed by China, suggesting that the two sides may jointly look at the cooperation opportunities brought about by the initiatives.