China backs Mongolia's proposal for 3-way meeting with Russia
Updated: 2014-08-22 02:19
By ZHANG YUNBI (China Daily)
Comments
Print
Mail
Large
Medium
Small
Confab likely to be held at the leadership summit of Shanghai Cooperation Organization in September in Dushanbe,Tajikistan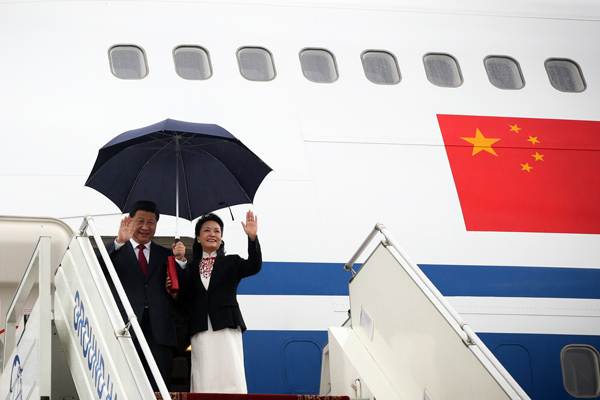 President Xi Jinping and first lady Peng Liyuan arrive in Ulan Bator on Thursday. [Photo/Agencies]
Beijing expressed support on Thursday for a Ulan Bator proposal to hold a three-way meeting between leaders of China, Russia and Mongolia.
The two nations have urged "enhancing the trilateral consultation mechanism and boosting three-way cooperation".
Sources said they believe the rare meeting will likely be held at the leadership summit of the Shanghai Cooperation Organization in September in Dushanbe, Tajikistan.
The announcement may signify major progress in trilateral teamwork, which represents a shared economic and strategic demand to deal with the rapidly changing strategic landscape in Northeast Asia, observers said.
Gathering the three leaders at the same table will be a remarkable event that "may have benefited greatly from a powerful boost by the unprecedented development of the China-Russian relationship," said Piao Jianyi, director of Center for Contemporary Mongolia Studies under the National Institute of International Strategy at the Chinese Academy of Social Sciences.
Previous trilateral contacts were made mostly on working levels, and no matter what is put on the agenda it shows a "shared ambition in top-level designs", Piao said.
Senior diplomats have gathered several times, and a news release following a working level talk on Oct 29, 2012, said "there are no lingering political and historical issues" among them.
The three nations have called for "enhancing regional security" on the basis of respecting each other's sovereignty and territorial integrity, and they said they endorse "the rapid development of trilateral cooperation", according to the news release.