China, Mongolia upgrade ties to comprehensive strategic partnership
Updated: 2014-08-21 22:24
(Xinhua)
Comments
Print
Mail
Large
Medium
Small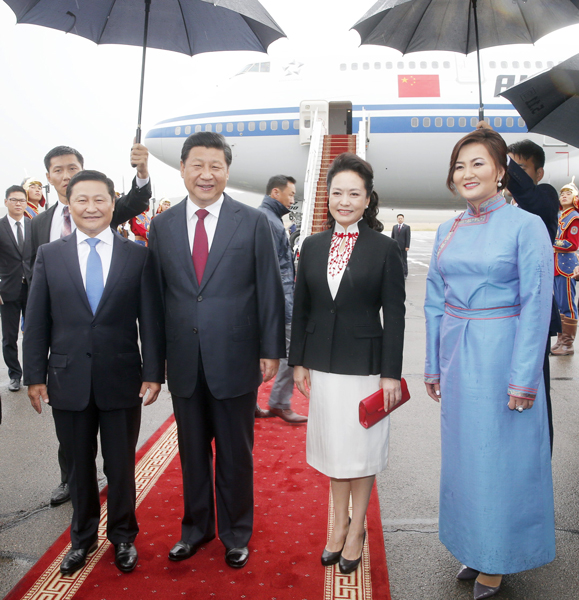 Chinese President Xi Jinping (second left) and wife Peng Liyuan (second right) are greeted by Mongolian Prime Minister Norov Altankhuyag and his wife at the airport in Ulan Bator August 21, 2014. Xi is in Ulan Bator for a two-day state visit to Mongolia. [Photo/Xinhua]
ULAN BATOR - Chinese President Xi Jinping and his Mongolian counterpart, Tsakhiagiin Elbegdorj, signed a joint declaration here Thursday to upgrade bilateral ties to a comprehensive strategic partnership.
The two sides noted that the upgrading is based on high-level mutual trust, a common aspiration for closer ties of mutual benefit, and a shared wish to stay forever as good neighbors, good partners and good friends that are mutually trustworthy and responsible.
Since China and Mongolia established diplomatic ties 65 years ago, friendship and cooperation have been the mainstream of bilateral relations, Xi said in his talks with the Mongolian leader.
The two sides sincerely respect the political systems and development paths they have each selected in accordance with their respective national conditions, Xi noted.
They also take care of each other's core interests and major concerns, and regard each other as important development opportunities, Xi added, stressing that the bond is hard-earned and deserves to be treasured.
China is willing to work with Mongolia to enhance mutual trust, deepen mutually beneficial cooperation, and realize common development and prosperity, Xi said.
The decision to upgrade bilateral ties is of strategic significance and in line with the fundamental interests of the two countries and peoples, he said.
Xi put forward a four-point proposal for the future development of bilateral relations.
First, he called on the two countries to enhance political and security cooperation.
Xi said he is willing to maintain communication with Elbegdorj through various channels on major issues of common concern, and invites Elbegdorj to attend a dialogue among China's partners on the sidelines of the informal leaders' meeting of the Asia-Pacific Economic Cooperation (APEC) due to be held in Beijing in November.
China appreciates Mongolia's correct stand on issues related to Taiwan and Tibet, and supports the legislatures, diplomatic bodies, political parties and defense departments of the two countries to establish and bring into full play the dialogue and communication mechanisms between them.
Second, Xi urged the two sides to comprehensively expand practical cooperation.
The Chinese president asked the two countries to continue making good use of the inter-governmental cooperation mechanism and realize the goal of lifting bilateral trade to 10 billion U.S. dollars by 2020.
The two countries, he said, should expand mining, infrastructure and financial cooperation, prioritize cooperation on connectivity and major projects, and strengthen collaboration in such areas as deep processing of mineral products, new energy, electricity, agriculture and border ports.
They also should increase the size of currency swap, launch the preparatory work for the negotiation and signing of a bilateral free trade agreement at an early date, and vigorously promote the building of cross-border economic cooperation zones, added Xi.
Third, the Chinese president urged the two countries to enhance people-to-people exchanges.
The two sides, he said, should properly carry out the China-Mongolia Friendly Exchange Year program, and enhance exchanges and cooperation in such areas as youth, media, protection of intangible cultural heritage, and the prevention and control of transnational contagious diseases and desertification.
Fourth, the Chinese leader called on the two countries to promote cooperation on international affairs and under multilateral mechanisms.
The two sides, he said, should continue strengthening coordination and cooperation within the frameworks of the United Nations, the Asia-Europe Meeting, the Shanghai Cooperation Organization and the Conference on Interaction and Confidence Building Measures in Asia.
China supports Mongolia playing an active role in international and regional affairs, added the Chinese president.
For his part, Elbegdorj said the Mongolian side highly values the development of good-neighborly friendly cooperation with China and regards it as a priority of Mongolia's foreign policy.
The establishment of the comprehensive strategic partnership indicates that China-Mongolia relations have entered the best period in history, he said, noting that he fully agrees with Xi's proposal on enhancing bilateral cooperation.
China enjoys popular support among the Mongolian people as it has fully taken into consideration the interests of the Mongolian side in bilateral cooperation, Elbegdorj said.
He stressed that the Mongolian side always supports China's positions on Taiwan and Tibet affairs and does not support any forces or activities aimed at splitting China.
Mongolia hopes to expand bilateral trade with China and enhance bilateral cooperation in such areas as agriculture, coal and power, the president said.
Mongolia, he added, appreciates the convenience offered by China in transit transport, and is willing to actively participate in the building of the China-proposed Silk Road Economic Belt and jointly advance Asia-Europe cross-border railway transportation.
Meanwhile, Elbegdorj said his country supports the people-to-people exchanges between Mongolia and China, which help deepen mutual understanding and friendship.
Mongolia stands ready to maintain close communication and coordination with China in regional and international issues, so as to jointly safeguard regional peace and stability, he said.
Prior to their talks, Elbegdorj held a grand welcoming ceremony for Xi, who arrived here earlier in the day for a two-day state visit to Mongolia. It is the first visit in 11 years by a Chinese head of state to Mongolia.
After their talks, the two heads of state witnessed the signing of a series of cooperation agreements covering areas like diplomacy, economy and trade, transit transport, mining, infrastructure construction, finance, culture and housing construction.
Speaking at a joint press conference afterwards, the two presidents reiterated their commitment to further consolidating bilateral friendly relations and practical cooperation.