Mongolia president says ready to further promote ties with China
Updated: 2014-08-19 10:49
(Xinhua)
Comments
Print
Mail
Large
Medium
Small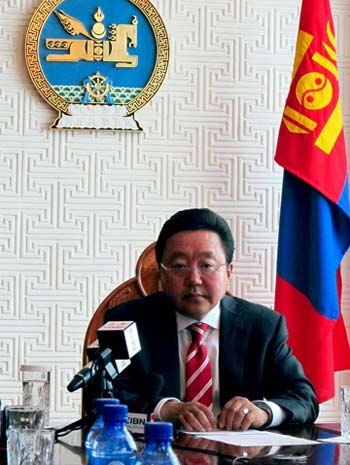 Mongolian President Tsakhiagiin Elbegdorj talks to media during a pool interview with a Chinese news delegation ahead of Chinese President Xi Jinping's upcoming visit to Mongolia in Ulan Bator, Mongolia, Aug 15, 2014. [Photo/Xinhua]
ULAN BATOR - Mongolian President Tsakhiagiin Elbegdorj said that his country is ready to further promote its strategic partnership with China.
The president made the remarks at a pool interview with a Chinese news delegation ahead of Chinese President Xi Jinping's upcoming visit to Mongolia on Aug 21-22.
Elbegdorj said this year marks the 65th anniversary of the establishment of the China-Mongolia diplomatic relationship.
The ties between Mongolia and China have made remarkable headway in various fields and at a strategic level, he said.
Mongolia is willing to further advance the bilateral strategic partnership in five aspects, namely, enhancing mutual trust, expanding security cooperation, boosting cooperation in cross-border transport and infrastructure, further enriching multilateral cooperation, and promoting two-way trade and investment to a new stage, the president said.
Elbegdorj believed that trade and investment between Mongolia and China will see an opportunity for further expansion in the coming years.
Mongolia's economic policy is to process its natural and agricultural resources, increase their added value and provide high-quality products to the market, he said.
In addition, improving investment environment is one of the priorities of Mongolia's economic and trade policies, he said, adding Mongolia sticks to the principles of equality and mutual benefit on investment and trade.
"President Xi attaches great importance to the relations of the two countries, which I am very pleased to see," said Elbegdorj. "I expressed my thanks to him for his sincere and pragmatic perspective when dealing with Mongolia-China relationship."
The two leaders exchanged views on a wide range of issues during their meeting at a summit of the Shanghai Cooperation Organization in Bishkek last September, and also at a breakfast meeting at the fourth summit of the Conference on Interaction and Confidence Building Measures in Asia in Shanghai in May.
Ulan Bator is discussing and implementing the proposal of the Silk Road economic belt, said the Mongolian president, urging the two countries to enhance cooperation in railway, pipeline, and highway construction.
"Mongolia and China share a border of 4,710 kilometers," he said, adding infrastructure in these border area is expected to be improved.
With scenic landscape, Mongolia welcomes more Chinese visitors, Elbegdorj added.
Chinese President Xi will pay a state visit to Mongolia on Thursday and Friday, the first time that a Chinese head of state has visited Mongolia in 11 years.