Surge in demand for China
Updated: 2014-04-16 08:30
By Todd Balazovic (China Daily)
Comments
Print
Mail
Large
Medium
Small
Paying their own way
And while scholarships provided by the Chinese government have contributed to the rise in the number of Africans, the big growth is in students willing to pay their own way.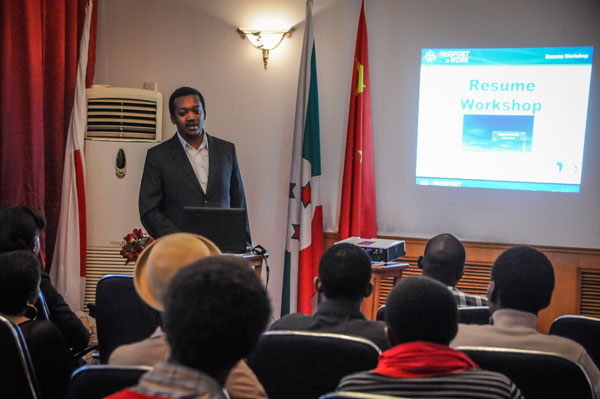 "What China has brought is an overseas education that Africa's middle-class can afford." Norbert Haguma, CEO of the young African professionals and students organization. Provided to China Daily
Out of the 8,000 African students who studied in China in 2008, around 5,000 had scholarships.
Last year, out of the estimated 30,000 African students in China, only about 7,000 received scholarships, meaning 23,000 were privately funded.
"It used to be that only those with political connections or who were rich could study abroad," said Norbert Haguma, CEO of the Young African Professionals and Students Organization, and Kiziga, an online platform designed to connect Africans with Chinese universities and jobs.
"What China has brought is an overseas education that Africa's middle-class can afford."
A year's study for a Bachelor of Science at Witwatersrand University in Johannesburg, one of South Africa's most prestigious institutions, costs about $3,400, compared with $4,800 for a comparable program at Tsinghua University.
The average cost of studying for a four-year degree at a public university in the US is $23,000 a year.
"Relatively speaking, the tuition fees for learning in China are much lower than in Western countries, even for the self-funded students," said He from CASS.
Berhe said he chose to pay his own way because of the moneymaking potential bestowed by an education in China when he returns home. Outside of Africa, however, things may be different.
"If you're coming back to Africa with a Chinese degree, any company that deals with Chinese clients is going to see it as a huge plus ... but if I took the degree to Europe I don't think it would be very beneficial."
For Gountin of Benin, the salary available back in Africa was the biggest draw.
"I considered staying in China, but the job I had didn't guarantee my everyday living expenses, so I decided to leave and return home," he said. "I have no regrets coming back, although I miss the food!"
The wide range of English programs now available is also fueling the rise in the number of African students studying in China. As Chinese universities offer more courses in English, a lack of Mandarin is no longer a barrier for international students.
Scrolling through the offerings on the Chinese university and college admission systems website reveals hundreds of courses taught in English, with topics ranging from E-commerce law to medicine.
The efforts to attract more international students are part of a soft power push to increase global understanding of China, rather than to make money from tuition fees, said Yang Rui, professor of Education at Hong Kong University.
"Institutions have been trying very hard to recruit more international students. But they all stress international understanding far more than the income generated. This is partly due to the fact that for too long China has not been understood by others. China is keen to be understood better. It's also in line with China's current international situation. It's obvious that China needs a peaceful and even friendly environment in which to develop itself," he said.
Provincial universities that would otherwise be unknown outside China have been pushing particularly hard to attract international students, he said.