Surge in demand for China
Updated: 2014-04-16 08:30
By Todd Balazovic (China Daily)
Comments
Print
Mail
Large
Medium
Small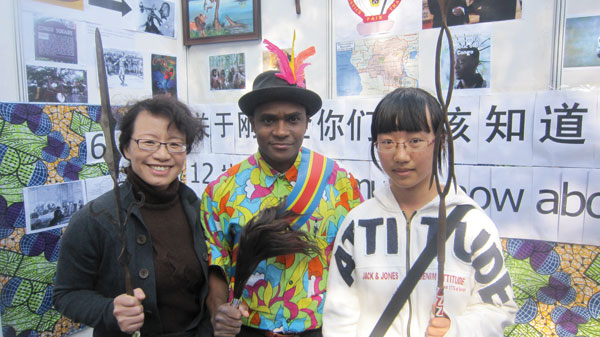 "China has experienced double-digit growth for the last five years. Their economy is as strong as it's ever been. For them, the cost of providing these scholarships is not big. But for students like me, who will return home, bringing knowledge of China and knowledge of how to do business with China, the benefits are priceless." Antoine Lokongo, a PhD student from the democratic republic of Congo. Provided to China Daily


More students from Africa choose mainland universities, Todd Balazovic reports in Beijing.
Rewina Berhe admits that when he left his family in Ethiopia to study in China in 2009, he knew nothing about the country.
Seeking a head start in Ethiopia's competitive business world, the high-school graduate signed up for a bachelor's degree at the University of International Business and Economics in Beijing. He arrived with no Chinese language skills and only the vaguest notion of what the next four years would bring.
"I came here blindfolded. When I got on the plane, I only knew two things about China - the Olympics and the Great Wall," the 24-year-old said.
"I was going to go into business, so it made sense that I studied in the country that has dominated our business and commerce industry during the last few years."
After he graduates with a degree in economics, Berhe will return home in July to work in the family construction business helping to secure contracts with Chinese companies operating in Ethiopia.
Berhe is part of the first big wave of Africans to study in China following the efforts of the Forum on China and Africa Cooperation in 2006 to encourage a surge in educational and cultural exchanges between the two economies.
"One of the main objectives of the forum is to bridge the gap for Africans to come and get educated for the enhancement of both Africa and China," he said.
During the past five years, the number of Africans studying in China has risen by more than 20 percent every year. In 2003 the number was 1,793, and last year it was 30,000, according to statistics from the Ministry of Education.
Although China lags behind Europe and the United States in attracting students, it is catching the eyes of scholars and the children of influential Africans who see the continent's future as inexorably tied to China. Meanwhile, as China overtakes Europe and the US as the continent's largest trading partner, Africans are now arriving to gain business insights.
For Sebastian Collins, who is just finishing a five-year international trade degree in Beijing, taking the road less traveled was a major factor in his decision to enroll at a Chinese university.
"I didn't want to follow the conventional style of my family and friends - everybody wanted to go to the US and the UK. I wanted to see another part of the world," the 27-year-old Liberian said.
"I've always been interested in business. With China's business and economic prosperity, I thought maybe I could try to learn one or two lessons."
During a trip home two years ago, Collins was offered two jobs, one translating and one working with Chinese customers at a bank, but he preferred to finish his studies instead.
Compared with other African nations Liberia conducts only a small amount of trade with China, mostly in resources, Collins said. Capitalizing on his knowledge of Chinese consumers, he plans to use his degree to set up an agricultural export business, something he sees as a large future market, when he returns home.
"(The Chinese) are still trying to enter the Liberian market," he said.
"So, with my knowledge of China and with the connections I've made here over the past few years, I'm thinking that instead of continuing to import stuff why don't we try to take something back to Liberia and export it to the rest of the world, including China?"
Business-related degrees are the most popular among African students in Beijing, with 40 percent pursuing an education in economics, according to a 2012 survey conducted by the Center for Chinese Studies.
The survey found those studying science accounted for the second-highest percentage, 39 percent, followed by politics and social studies at 19 percent.
Surprisingly, students traveling to China to concentrate solely on learning the language accounted for only 2 percent of those surveyed.
That's a far cry from more than a decade ago when many Africans studying in China focused on culture and language, said Maurice Gountin, who gained his PhD from Renmin University of China in 2008.
Gountin, who traveled from Benin to study for a bachelor's degree in Chinese language and culture at Beijing Language and Culture University in 1998, said the draw of having a specialized language skill first attracted him to China.
"I was just curious about Chinese civilization, but also wanted to study something specialized like Chinese language," he said.