Surge in demand for China
Updated: 2014-04-16 08:30
By Todd Balazovic (China Daily)
Comments
Print
Mail
Large
Medium
Small
Strategic relations
Following his language studies, Gountin completed a master's in international politics, before enrolling for his PhD in contemporary Chinese diplomacy. He returned to Benin in 2009 and now works as a public affairs officer, language instructor and translator at a Chinese cultural center. Africans with Chinese language skills are in high demand, he said. "China is playing an important role in international issues, and its relations with Africa are more strategic, making China specialists important resources."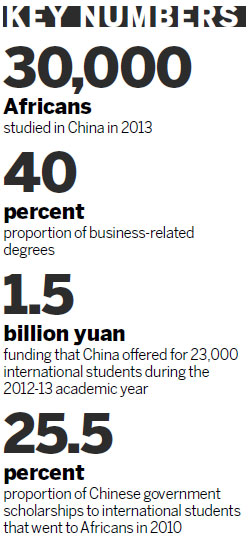 Self-financing students are helping to swell the ranks of African students, as are the scholarships the Chinese government provides to African countries, and more universities offering courses in English.
During his visit to Tanzania in March 2013, President Xi Jinping outlined a plan to provide more than 18,000 government scholarships to African students looking to study in China between 2013 and 2015.
During the 2012-13 academic year, China spent more than 1.5 billion yuan ($241.2 million) to help fund about 23,000 international students.
In 2010, 25.5 percent of Chinese government scholarships for international students went to Africans, according to the annual report of the Chinese Scholarship Council Annual in 2010.
"More Chinese government scholarships are being offered every year. So the chances of getting one are also rising," said He Wenping, director and professor of African Studies at the Chinese Academy of Social Sciences.
Antoine Lokongo, 45, from the Democratic Republic of Congo, who has spent the past five years studying for a PhD in international relations at Peking University, said the benefits of such scholarships far outweigh the government's financial outlay.
"China has experienced double-digit growth for the last five years. Their economy is as strong as it's ever been. For them, the cost of providing these scholarships is not big. But for students like me, who will return home with knowledge of China and how to do business in the country, the benefits are priceless."
He said he has already seen the benefits of students returning to work in their home countries.
One former classmate returned home to find a job with the Chinese technology giant Huawei, and now helps to train locals for the company's West African operations.
"This is an example where the benefits go both ways. Africans need training and China needs people with knowledge of how they do business," Lokongo said.