'London is calling and Beijing is listening'
By Joseph Catanzaro in Beijing ( China Daily )
Updated: 2013-11-11 08:09:17
Better relations will put China-UK business relations on strong footing
It has been a rocky 18 months for China and Britain on the diplomatic front, but the chill at the political level has been noticeably absent in business relations between the two nations.
It is a case of reading between the lines when Stephen Phillips, chief executive of the China-Britain Business Council, explains why. Money talks, even when political leaders don't, and wise heads from both sides have ensured that there are no disruptions in bilateral business transactions.
Speaking in the lead up to this month's EU-China Summit in Beijing, where top leaders from both sides are expected to put in place a roadmap for bilateral cooperation, Phillips says the renaissance in Sino-UK diplomatic ties will be a boost to business.
"The recent diplomatic challenges have not affected business," Phillips says. "Instead there has been a strong growth in UK's exports to China, the only EU nation to see an increase. However, if political relations are good, it's even better for business. So, that's the key message."

Phillips, 50, began his career in banking in the mid-1980s and by 1990 was working out of Hong Kong in what would prove to be the beginning of a professional relationship with China that has spanned 20-odd years.
No stranger to the politics of business and the business of politics, he refuses to be drawn into making comparisons between the UK's open approach toward trade with China and the arguably more reticent approach being taken by some other EU nations.
Instead he navigates hidden verbal shoals and steers the conversation in a more circuitous direction, finding safer waters.
"The UK is putting a very high priority on its commercial relations with China and, compared with many other EU countries, has been performing well," he says. "The UK is open to Chinese investment and also wants to see many more UK companies exporting to China. This is not in contradiction with also being fully engaged in and influencing the EU-China commercial relationship."
The initiatives the UK is putting into play to court more business from China are not revelations, when viewed individually. Phillips highlights several that are already public knowledge, twitching aside a curtain well after the unveiling.
But set against the bigger jigsaw puzzle of trade figures and political rhetoric come reality, the patchwork picture that emerges ahead of the talks in Beijing this month is compelling.
There is no ambiguity or hesitation when Phillips states that when it comes to prioritizing and shoring up future trading partners, the UK is focused on China.
"China is absolutely top of the list. No doubt about that," he says.
When China and the greater EU are still smarting over the recent ructions caused by anti-dumping and anti-subsidy investigations, against the backdrop of the new Australian government's decision to reject investment from Chinese technology major Huawei in its national broadband network, the UK has in stark contrast publicly welcomed Chinese investment.
Britain's political establishment has made it clear that nothing, not even Chinese interest in investing in sensitive infrastructure including nuclear power in the UK, is off the table when it comes to doing business. Phillips says he fully believes this to be true and accurate.
The recent China visits of British Chancellor George Osborne and London Mayor Boris Johnson are seen by many experts as the latest thaw in diplomatic relations between China and the UK, an olive branch one step short of a visit by UK Prime Minister David Cameron.
Phillips, however, approaches the evolving diplomatic situation with business blinders firmly affixed. His take is simply that a better political climate will be better for everyone's bottom line.
"We certainly hope the British PM will be in China in the not too distant future. I think that top level political engagements are necessary to ensure that business is on track. It opens doors and it opens opportunities."
Phillips' comments came as Osborne used his China trip to announce the UK would relax regulations, enabling London-based investors to use the yuan to buy Chinese shares and bonds directly, a move which circumvents the current requirement to go through Hong Kong.
In a sign Britain's political establishment is not only opening the door to Chinese business as Phillips suggests, but also laying out the welcome mat, talks are also afoot which could see Chinese banks open branches for wholesale activities in London.
Open doors, however, lead in both directions. The figures show the comings and goings of the money.
Bilateral trade in goods between China and the UK reached $63.1 billion in 2012, up 7.5 percent compared with the previous year. Last year alone, the total value of Chinese investment in the UK topped $8 billion.
Phillips says he believes the growth is sustainable.
"The UK has actually set a target of $100 billion of exports to China in the next few years. So that's the sort of aspiration that we have."
Rather than trying to compete with countries such as Germany, which dominates the trade in heavy machinery, Phillips says the UK will play to its strengths, which will increasingly be in demand as the Chinese domestic market "matures and becomes more sophisticated".
"China needs an awful lot from the UK. I think it's in areas such as the creative industries, high-tech industries, whether that's in biosciences or in IT. It's where the UK has got real advantage. It's higher up the value curve and China is looking to get higher up the value curve. I think there are good opportunities in financial and professional services; certainly at the China-Britain Business Council, it's one of the top three sectors that we work with - and that ranges from bankers, insurers, accountancy, law and all of the associated professions."
Conversely, Phillips says the UK also needs China to further its significant investment plans in infrastructure.
"I think what is really unique about the UK is it welcomes investment from China. The UK is open. It's open for business. It doesn't have some of the protectionist stances that other European countries and other Western countries have. We're almost agnostic in terms of where ... investment comes from. I think it's to do with the British mentality, the British philosophy that doing business is just good for British people."
Outside 10 Downing Street, Phillips concedes there are some concerns about foreign investment among the British citizenry.
"Obviously there are concerns that the average person on the street may have when there's foreign investment coming in," he says. "That's not specifically related to China. It's whether their jobs will be safeguarded. It's the normal human emotions that go along with perhaps uncertainty of having investment from a party that isn't so known to them."
Phillips will attend the upcoming summit wearing two hats. In addition to his role as CBBC chief executive, he is also chairman of the EU-China Business Association.
Both organizations are tasked with respectively assisting UK and EU companies grow and develop their business with China.
"On the UK front I hope that a good range of UK businesses - small and large - will take the opportunity to meet their Chinese counterparts at this important business event. It will offer good opportunities to network and learn about the latest opportunities. Businesses across the EU will be watching carefully the outcome of the political summit and the progress that is made on discussing an investment agreement between the EU and China."
There is tentative hope that this month will see solid groundwork laid for the EU to replace 26 existing bilateral agreements made between individual member states and China with a single trade agreement.
Phillips is coy about making predictions. Only one thing seems certain.
London's calling and Beijing's listening, while the money's still talking.
josephcatanzaro@chinadaily.com.cn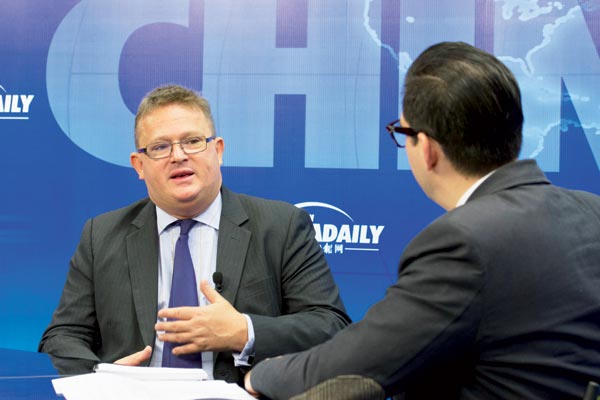 Stephen Phillips says the UK is open to Chinese business and expects more UK companies to export to China. Wu Chuanjing / China Daily
(China Daily 11/11/2013 page17)

Outbound ventures
China, long a favored destination for inward investment, may soon see the position reversed.