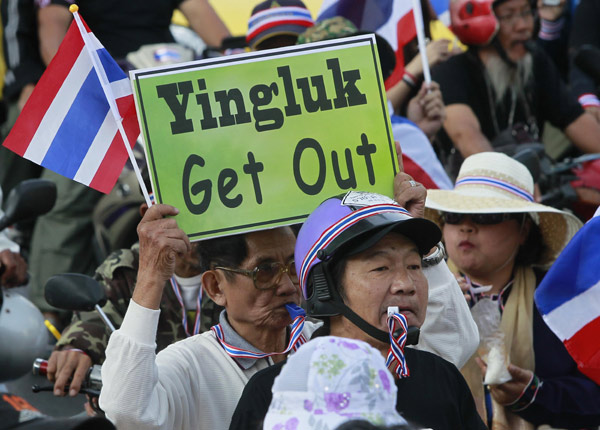 An anti-government protester blows a whistle and holds a placard in a rally at a major business district in Bangkok December 22, 2013. [Photo/Agencies]
BANGKOK - Tens of thousands of anti-government demonstrators massed peacefully across Thailand's capital on Sunday in their latest bid to topple Prime Minister Yingluck Shinawatra before a February election the main opposition party will boycott.
Yingluck called a snap poll for Feb 2 to try to cool tension but protesters want to scuttle the election to prevent her from renewing her mandate and perpetuating the influence of her self-exiled brother and former premier, Thaksin Shinawatra.
Thailand remains in an all-too-familiar deadlock after eight years of on-off conflict broadly between supporters and opponents of Thaksin, whose populist political machine has won every election since 2001 with widespread support among the rural poor.
Chanting "Yingluck, get out", whistle-blowing protesters gathered at locations around Bangkok and set up stages in at least four places, bringing traffic to a halt at three main intersections and in two commercial districts.
"I hate Yingluck and I want to get rid of her because she does everything for her brother, not for Thai people," said Chaloey Thanapaisan, a 75-year-old protester.
Among the protagonists in Thailand's turmoil is an establishment elite with influence among judges and generals and which backs protests against governments controlled by Thaksin, who they see as a tax-dodging crony capitalist who used his power to enriches his family and his clique of tycoons.
But to millions of rural working classes and farmers outside Bangkok, he is a benevolent billionaire who improved their living standards with cheap healthcare, easy credit and a raft of state subsidies.
Thailand's near-term future has become more uncertain following a decision on Saturday by the opposition Democrat Party to boycott the election, saying the democratic system had been distorted by Thaksin and was failing Thais.
"WE DON'T WANT ELECTION"
The boycott adds to concern that Thailand could be left in political limbo if forces allied with the Democrats and the protesters block an election that is otherwise likely to return Yingluck's Puea Thai Party to office.
Firebrand protest leader Suthep Thaugsuban, a former Democrat heavyweight, was feted like a rock star at rallies across the city on Sunday. He urged supporters to stop candidates from signing up for the election when registration opens on Monday.
"No matter where this takes place, we will go there and block it. We don't want this election," Suthep shouted to roars and applause from tens of thousands of protesters. "We will take our country back from the hands of the Thaksin regime."
Suthep wants democracy to be suspended and for an appointed "people's council" to reform Thailand before any election can happen. His campaign is less about policies and more about weakening the influence of the powerful Shinawatra family.
Yingluck had enjoyed a smooth two years in office but that unravelled in November when Puea Thai tried to push through an amnesty bill that would have nullified Thaksin's 2008 graft conviction, allowing him to return home from Dubai. It proved to be a political miscalculation by her party.
Questions remain about how the protesters can remove Yingluck when the rallies, which have attracted as many as 160,000 people, have remained largely peaceful and have failed to stop her government from functioning.
The rallies were expected to finish late on Sunday and protest leaders said the demonstrators would return to their base in the city's historic quarter.
Suthep has asked for the heavily politicised military that overthrew Thaksin in a 2006 coup to intervene on their behalf, but the top brass has so far refused to step in.
Thailand's Election Commission had suggested the poll could be delayed, fearing it could be marred by violence, but on Friday it ruled out a postponement.
The Democrats boycotted an election called during similar protests in 2006, when Thaksin tried to renew his mandate. His party won, but the result was annulled on a technicality.