Dubai's success in bidding to host the 2020 World Expo will trigger billions of dollars of investment in the emirate, but may also risk a repeat of the boom-and-bust cycle that nearly caused its financial collapse just a few years ago.
After competing against three cities, Dubai was awarded the world's fair by the International Exhibitions Bureau on Wednesday, setting the seal on a dramatic economic recovery.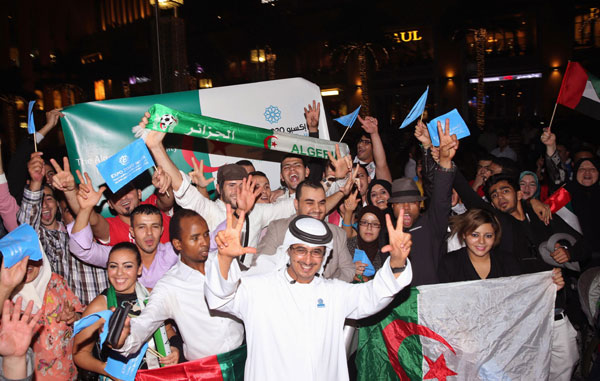 People celebrate after Dubai won the right to host the 2020 World Expo, in front of the Burj Khalifa in Dubai November 27, 2013. Dubai won the right on Wednesday to host the 2020 World Expo, beating off competition from the Brazilian city of Sao Paulo, Yekaterinburg in Russia and Izmir in Turkey in a vote by members of the world fair body. [Photo/Agencies]
Four years ago, the emirate of 2.2 million people nearly defaulted on its debt after a real estate bubble burst, causing property prices to crash more than 50 percent from 2008 to 2010.
Now a boom in trade, tourism and finance is repairing the damage, and Dubai again has the resources to plan big projects. But some businesspeople fear the additional investment for the Expo may be hard for the economy to absorb.
Hopes for a successful Expo bid have already contributed to speculation in the property market, where prices are up some 20 percent over the past 12 months, and the stock market, where the index has soared 79 percent this year.
Further large rises could start to hurt Dubai's economic competitiveness by raising its cost base - and conceivably set the emirate up for another crash down the road.
"(The Expo) ... is a powerful symbol of Dubai putting the 2009 bust behind it and of the world recognizing the strengths of its political stability and its open, export-oriented real economy," said Simon Williams, chief Middle East economist for HSBC.
But he added: "The key challenge policymakers now face isn't generating growth but managing it, making sure it's sustainable and well-balanced. Policy decisions over the next 12 months will determine how successful Dubai will be in avoiding a repeat of the boom-and-bust cycle further down the line."
Because of Dubai's small population, the Expo may have more of an impact on it than most host locations. The government thinks the event will draw more than 25 million visitors, 70 percent from outside the United Arab Emirates, and create 277,000 jobs - though some analysts believe those numbers may be too high.
A huge exhibition center will be built on the 438-hectare Expo site, as will tens of thousands of new hotel rooms and an extension to Dubai's metro line.
The government expects infrastructure spending to total some $6.8 billion; overall Expo-related spending, including private sector projects, may reach $18.3 billion, HSBC estimated.
By themselves, such figures, spread over seven years, look manageable for Dubai's $90 billion economy. But they come on the back of other grandiose projects announced by Dubai's real estate developers in the past year, including a replica of the Taj Mahal, a residential area with a giant pyramid, and an apartment complex with penthouses worth $250 million each.
Alan Robertson, regional chief executive for property consultants Jones Lang LaSalle, which advised Dubai on its Expo bid, predicted interest in real estate will now rise further.
"While the Expo will result in long-term benefits to the Dubai economy and the real estate market, the short-term impact needs to be managed carefully to avoid the inevitable boost in sentiment translating into excessive price growth or overdevelopment," he said.
Also, Dubai lacks the oil wealth and deep fiscal reserves of other rich Gulf states, so government-related entities look set to finance much of their Expo work with bank loans.
Heavy borrowing by GREs, whose debts are already worth about 90 percent of Dubai's GDP, were at the root of the 2009 crisis, London-based Capital Economics noted.
Authorities say they have taken steps to limit the risks.
In October Dubai doubled, to 4 percent, the fee charged on land transactions in an effort to deter property speculators. The UAE central bank this year set rules to restrict mortgage lending and limit banks' loan exposure to big state firms.
It is not clear if such steps will help cool the stock market. In the short term, shares may rise further because of a feel-good factor, fund managers and analysts said. However, it will take a year or two for Expo-related spending to ramp up, and the stock market rally is likely to slow well before then.
Reuters