Snow and tears mark funeral for DPRK leader
Updated: 2011-12-29 08:45
| | | | | | | | | | | |
| --- | --- | --- | --- | --- | --- | --- | --- | --- | --- | --- |
|   | | Comments() | | Print | | Mail | | Large Medium  Small | 分享按钮 | 0 |
PYONGYANG - After days of wintry mourning, heavy snow blanketed Pyongyang on Wednesday for the funeral of Kim Jong-il, the late leader of Democratic People's Republic of Korea (DPRK).
Tens of thousands of people lined the snowy Pyongyang streets on Wednesday, wailing and clutching their chests as a black hearse carrying Kim Jong-il's body wound its way through the capital.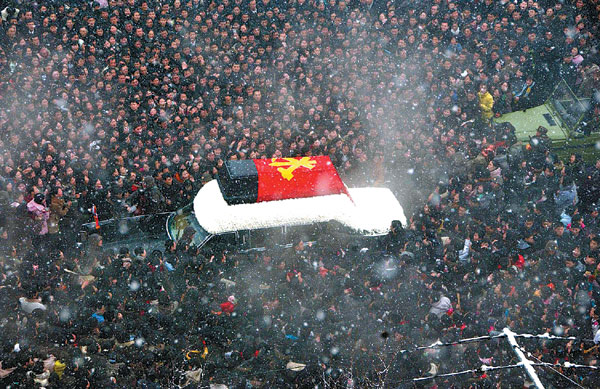 The funeral procession for the DPRK's late leader Kim Jong-il arrives at Kim Il-sung Square in Pyongyang. Tens of thousands of weeping people bade farewell to Kim Jong-il as his coffin passed through a snow-filled Pyongyang. KCNA via Xinhua 
The funeral procession from the Kumsusan Memorial Palace, where Kim's body had lain in state, was accompanied by top military and party officials. Son and successor Kim Jong-un was the head mourner, walking with one hand on the hearse, the other raised in salute, his head bowed against the wind.
The funeral procession passed by huge crowds of mourners, most of them stood in the snow with their heads bare, and many screaming and flailing their arms as soldiers struggled to keep them from spilling onto the road.
The procession to the city's main plaza, Kim Il-sung Square, where hundreds of thousands of DPRK people have been paying their respects over the past 10 days.
Sobs and wails filled the air as mourners stamped their feet and cried as the hearse passed by. Video showed weeping civilians who swayed with grief and shouted "father, father".
"Seeing this white snow fall has made me think of the general's efforts, and this brings tears to my eyes," Seo Ju-rim, a red-cheeked, weeping female soldier, told the DPRK TV.
"How can the sky not cry?" a weeping soldier standing in the snow said to state TV. "The people ... are all crying tears of blood."
Like his father Kim Il-sung's funeral in 1994, Kim Jong-il's coffin was wrapped in a red flag. A limousine carrying a huge portrait of a smiling Kim led the procession, and soldiers followed the hearse and lined the streets. A national memorial service will take place at noon on Thursday, DPRK media said.
Wednesday's procession was accompanied by military music, the DPRK's media said the memorial route was about 40 km long, though top officials did not walk the entire route.
Walking behind Kim Jong-un was Jang Song-thaek, Kim Jong-il's brother-in-law and a vice-chairman of the National Defense Commission.
Also escorting the limousine were military chief Ri Yong-ho and People's Armed Forces Minister Kim Yong-chun, along with top Workers' Party officials Choe Thae-bok and Kim Ki-nam.
The procession ended after about three hours with 21 guns fired in salute as the top leadership looked on from a podium.
Heavy snow was falling in Pyongyang, which state media characterized in the early days of mourning as proof that the skies were "grieving" for Kim Jong-il as well.