Polish PM scores historic election win
Updated: 2011-10-10 11:22
(Agencies)
| | | | | | | | | | | |
| --- | --- | --- | --- | --- | --- | --- | --- | --- | --- | --- |
|   | | Comments() | | Print | | Mail | | Large Medium  Small | 分享按钮 | 0 |
* Tusk's Civic Platform wins new four-year term
* Tusk to seek new coalition with Peasants' Party
* Analysts welcome outcome as sign of stability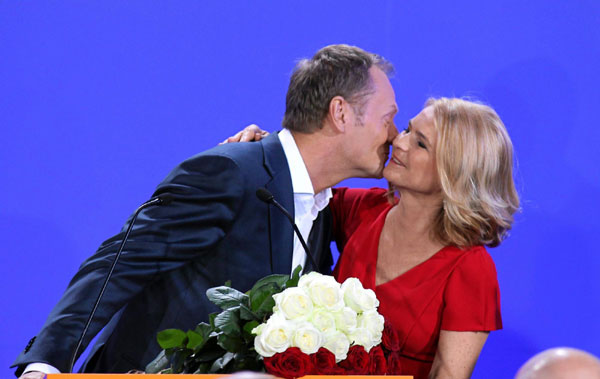 Poland's Prime Minister Donald Tusk (L), leader of ruling centre-right Civic Platform (PO), kisses his wife Malgorzata after the election results announcement in Warsaw October 9, 2011. [Photo/Agencies]
 WARSAW - Donald Tusk will be the first Polish prime minister since 1989 to rule for two successive terms after his centre-right Civic Platform trounced its rivals in a parliamentary election.
An exit poll showed Tusk's pro-business party had won nearly 40 percent of votes in Sunday's election, short of an absolute majority but far ahead of Jaroslaw Kaczynski's nationalist-conservative Law and Justice party on just over 30 percent.
Financial markets will welcome Tusk's victory, which points to four more years of relative political and economic stability in the European Union's largest eastern member state at a time of deepening crisis in the euro zone.
Final official results are not expected until Tuesday evening, but a jubilant Tusk swiftly claimed victory and Kaczynski conceded defeat.
Projections based on the exit poll, conducted by TNS OBOP for national television, showed that PO and its preferred coalition partner, the Peasants' Party (PSL), would together have enough seats to win a majority in the Sejm lower house.
The leader of the rural-based PSL, Waldemar Pawlak, signalled he was ready to forge a new coalition with Tusk.
About one in two eligible voters took part in the election, in which a return to power by Kaczynski which would have threatened relations with Germany and Russia and worried investors.
The PAP state news agency quoted a senior PO politician as saying Tusk and Pawlak might yet fall short of a majority and that Civic Platform might also try to lure members of the Democratic Left Alliance (SLD) into a new coalition.
The SLD won a surprisingly poor 7.7 percent, according to the exit poll, while Pawlak's PSL secured 8.2 percent.
The outgoing coalition has presided over four years of strong economic growth, steering Poland smoothly through the 2008-09 global financial crisis without dipping into recession.
Its victory ends a string of defeats for ruling parties in elections in EU member states this year, including in Portugal, Latvia, Denmark and Ireland.  
PO has pledged more cautious reforms aimed at reining in the public debt and budget deficit, expected to reach 53.8 percent and 5.6 percent respectively this year.
It also wants to continue a privatisation programme set to net 15 billion zlotys ($4 billion) for state coffers in 2011 and to pursue closer ties with Poland's EU partners.
TUSK TRIUMPH
Polish President Bronislaw Komorowski, a former Civic Platform lawmaker, is now expected to ask Tusk to form a government but he said he must first wait for the official election results, expected on Tuesday evening.
"I hope that it will be possible to reduce the time necessary for creating the government ... to a minimum," Komorowski said on Sunday evening.
The result is a personal triumph for Tusk, 54, a pragmatic liberal conservative from near Gdansk on Poland's Baltic coast who was involved in the Solidarity movement.
Tusk, whose country holds the EU presidency until the end of this year, favours closer integration with the rest of the bloc and says joining the euro remains a strategic goal for Poland despite the debt crisis in the euro zone.
Tusk has good personal ties with German Chancellor Angela Merkel and has maintained a cautious rapprochement with Russia, despite strains over a plane crash there last year that killed then-President Lech Kaczynski, Jaroslaw Kaczynski's twin.  
A government led by Kaczynski, 62, would have been likely to strain Poland's relations with its two large neighbours, Russia and Germany, as happened when Law and Justice was last in power from  2005 to 2007.
Kaczynski's calls for a halt to privatisation, for higher taxes on the wealthy and for a more combative stance in dealings with the EU had also unsettled investors.
Janusz Palikot, its founder, is a wealthy businessman and former PO lawmaker whose attacks on the powerful Roman Catholic Church and championing of causes such as gay rights and legalisation of soft drugs struck a chord among young voters. ($1 = 3.235 Polish Zlotys)