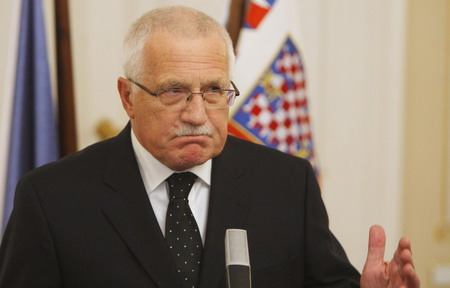 The Czech Republic's President Vaclav Klaus speaks to the media after signing the Lisbon treaty in Prague November 3, 2009. [Agencies]
PRAGUE: Czech President Vaclav Klaus said on Tuesday he has signed Lisbon Treaty, the European Union's reform pact.
The Czech Republic was the last EU country that did not ratified the treaty. With Klaus's signature, the ratification has been completed.
Related readings:


 Czech farmers dump milk to protest price slump


 China and Czech Republic to set up friendship memorandum


 Czech DJ strips naked after bet


 Russia expels two Czech diplomats in spy row

 Chinese premier calls for closer ties with Czech
The Constitutional Court on Tuesday rejected a complaint against the treaty and said the treaty was in line with the country's constitution.
Klaus said he expected this verdict and respected it though he did not agree with the court's arguments.
On Thursday, the EU leaders agreed on an opt-out from the EU Charter of Fundamental Rights, demanded by Klaus for Czechs.
Klaus's missing signature was the last obstacle to the implementation of the EU reform treaty.
Lisbon treaty might take effect in December or January, EC President Jose Barroso said in reaction to the news about Klaus's signing the document.