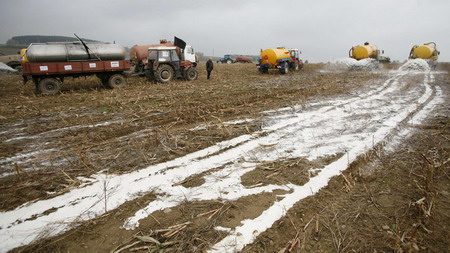 Milk farmers spray fresh milk on a field near the town of Jihlava October 29, 2009. Milk producers protested against lower selling prices of milk in the Czech Republic. [Agencies]
PRAGUE: Farmers sprayed milk onto fields across the Czech Republic on Thursday to protest low prices.
Agriculture authorities said farmers planned to dump up to 500,000 liters (132,000 gallons) of milk, or 7 percent of their daily production.
Farmers complain milk prices are too low for them to survive. They receive below six koruna (20 euro cents) for a liter, but they say a fair price would be at least 10 koruna (almost 40 euro cents).
Related readings:


 Euro farmers dump milk to protest price slump

 Illegal collection of milk alleged


 Feihe to milk more profits with huge capex


 China's dairy farmers getting over tainted milk scandal
The chairman of the agriculture chamber, Jan Veleba, has warned that around 40,000 jobs could be lost in the next two years if the situation is not improved.
Thousands of farmers across the 27-nation EU are facing a financial crunch because of collapsed milk prices and seek more EU help and quotas to artificially drive up milk prices.
Farmers claimed they were forced to protest because any help from the EU and the government was not sufficient.
"We can't afford to face such a situation anymore," farmer Josef Kovar told the CT24 news television. "It's liquidation."
"We are aware of the difficult situation, the milk producers find themselves in," Agriculture Ministry said in a statement Thursday.
It, however, said "that such a problematic situation in the milk sector is even worsened by the protests, which in our opinion, can't solve the problem."
Farmers plan to stage another protest in the capital, Prague, Dec 2.