PRAGUE -- Chinese Premier Wen Jiabao called for closer relations between China and the Czech Republic at meetings with Czech leaders on Wednesday.
The Chinese government attaches great importance to its relationship with the Czech Republic and would like to push the ties to a new stage, Wen said in talks with Czech President Vaclav Klaus.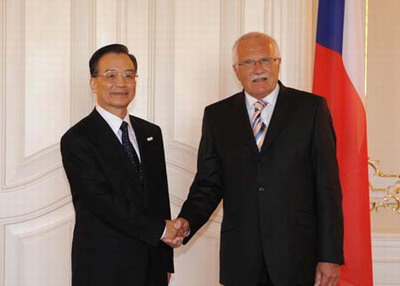 Chinese Premier Wen Jiabao (L) meets with Czech President Vaclav Klaus in Prague, capital of Czech Republic, May 20, 2009. [Xinhua]
Wen said the Czech Republic, together with other Central and Eastern European countries, is among the earliest nations that established diplomatic relations with China, and their bilateral relations have enjoyed a sound foundation.
This year marks the 60th anniversary of the establishment of diplomatic relations between China and the Czech Republic.
Wen said that in the past 60 years, friendship and cooperation have always been the main tone of bilateral ties despite profound changes in both countries and in the world at large.
He said that in recent years, China and the Czech Republic have maintained high-level contacts, with bilateral economic and trade cooperation deepened and social and cultural exchanges expanded.
Related readings:


 Premier Wen in Prague for China-EU summit


 Premier Wen arrives in Prague for summit


 EU in line for Chinese windfall


 China to send new buying mission to EU


 China-EU summit kicks off in Prague
Wen said China attaches great importance to its relations with the Czech Republic and is willing to take the 60th anniversary as an opportunity to enhance mutual political trust, expand trade and mutual investment, strengthen cooperation in science and environmental protection, promote non-governmental exchanges, and better coordinate in international affairs.
Klaus, who has visited China three times, said he was very impressed every time he visited China. The Czech Republic considers China an important partner and is willing to strengthen cooperation and exchanges with China in various fields, Klaus said.
He expressed hopes that more Czech companies would invest in China.
Wen met Klaus after attending the 11th China-EU summit held here earlier Wednesday. The Czech Republic holds the rotating EU presidency.
Wen praised the efforts made by Klaus for the success of the summit and spoke highly of his contribution to bilateral relations.
Also on Wednesday, the Chinese premier met Czech Prime Minister Jan Fisher.
Wen said it is particularly important for China and the Czech Republic to work together amid the global financial crisis.
The Chinese government is willing to expand trade with the Czech Republic and increase mutual investment and take concrete actions to promote trade balance, said the premier.
China welcomes the efforts by Czech enterprises to further explore the Chinese market, Wen said, adding that the two sides can also try to jointly explore third-party markets.
Both sides should create a sound environment for investment and cooperation between enterprises, Wen said.
Fisher said the Czech Republic considers the 60th anniversary as a new milestone and would enhance political dialogue with China and reinforce cooperation in such sectors as trade, investment, tourism and culture.
He also called for joint efforts with China to tackle the international financial crisis and push bilateral ties to a new high.