TEHRAN – Iran's supreme leader ordered Monday an investigation into allegations of election fraud, marking a stunning turnaround by the country's most powerful figure and offering hope to opposition forces who have waged street clashes to protest the re-election of President Mahmoud Ahmadinejad.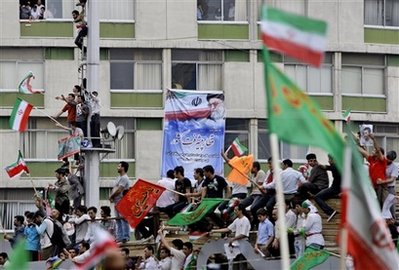 With the image of Ayatollah Ali Khamenei in background, supporters of hard line Iranian President Mahmoud Ahmadinejad wave national flag as they attend a rally at Valiasr square in Tehran, Sunday, June 14, 2009. [Agencies] 
State television quoted Ayatollah Ali Khamenei directing a high-level clerical panel, the Guardian Council, to look into charges by pro-reform candidate Mir Hossein Mousavi, who has said he is the rightful winner of Friday's presidential election.
Related readings:


 Iran to continue hard-line policy, say experts


 Rival supporters highlight Iran's divide


 Ahmadinejad: Iran vote 'real and free'


 Iran's supreme leader warns against provocative behavior


 Iran declares win for Ahmadinejad in disputed vote
The decision comes after Mousavi wrote a letter appealing to the Guardian Council and met Sunday with Khamenei, who holds almost limitless power over Iranian affairs. Such an election probe by the 12-member council is uncharted territory and it not immediately clear how it would proceed or how long it would take.
Election results must be authorized by the council, composed of clerics closely allied with the unelected supreme leader. All three of Ahmadinejad's challengers in the election - Mousavi and two others - have made public allegations of fraud after results showed the president winning by a 2-to-1 margin.
"Issues must be pursued through a legal channel," state TV quoted Khamenei as saying. The supreme leader said he has "insisted that the Guardian Council carefully probe this letter."
The day after the election, Khamenei urged the nation to unite behind Ahmadinejad and called the result a "divine assessment."
The results touched off three days of clashes - the worst unrest in Tehran in a decade. Protesters set fires and battled anti-riot police, including a clash overnight at Tehran University after 3,000 students gathered to oppose the election results.
One of Mousavi's Web sites said a student protester was killed early Monday during clashes with plainclothes hard-liners in Shiraz, southern Iran. But there was no independent confirmation of the report. There also have been unconfirmed reports of unrest breaking out in other cities across Iran.
Security forces also have struck back with targeted arrests of pro-reform activists and blocks on text messaging and pro-Mousavi Web sites used to rally his supporters.
A top Mousavi aide, Ali Reza Adeli, said that a rally planned for later Monday was delayed. Iran's Interior Ministry rejected a request from Mousavi to hold the rally and warned any defiance would be "illegal," state radio said.
But one of Mousavi's Web sites still accessible in Iran said Mousavi and another candidate, Mahdi Karroubi, planned to walk through Tehran streets to appeal for calm. A third candidate, the conservative Mohsen Rezaei, has also alleged irregularities in the voting.
State TV quoted Khamenei urging Mousavi to try to keep the violence from escalating and saying "it is necessary that activities are done with dignity."
Mousavi, who served as prime minister during the 1980s, has also threatened to hold a sit-in protest at the mausoleum of the late Ayatollah Ruhollah Khomeini, founder of the 1979 Islamic Revolution. Such an act would place authorities in a difficult spot: embarrassed by a demonstration at the sprawling shrine south of Tehran, but possibly unwilling to risk clashes at the hallowed site.