But Obama still retains a great deal of goodwill in the Middle East from people who feel his multicultural background allows him to relate to the region better than past US presidents.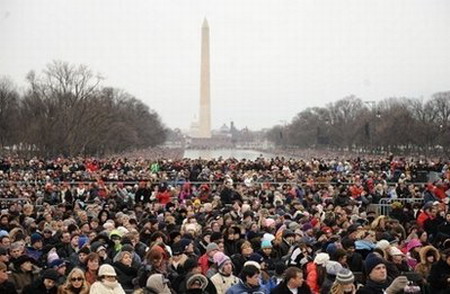 People bundled up against the cold attend the 'We Are One" concert, one of the events of US president-elect Barack Obama's inauguration celebrations, at the Lincoln Memorial in Washington January 18. Huge crowds have poured into Washington before dawn for Obama's inauguration with a building sense of joy, racial healing and a new lightness of mood despite America's problems. [Agencies]
Saleh al-Mohaisen, a Saudi who runs a jewelry store, said he was "overjoyed" when Obama was elected and will be following Tuesday's inauguration.
Related readings:


 Kenyan village awaits Obama's historic inauguration


 Obama look-alike shoots to fame in Indonesia


 Japan learns English from Obama speech textbook


 Irish bookie offers odds on Obama speech soundbites
"I felt that he could understand Arab suffering," he said.
Al-Mohaisen said Obama's failure to denounce Israel's Gaza offensive made him more wary of the new leader, but not enough to change his general opinion.
"I love him despite his silence," he said. "I feel we share the same blood."
Iraqis expressed mixed feelings, with some saying Obama represents a significant new page in US history and others questioning how much American policy will change in Iraq.
"Today is a big day for America when a black president takes office," said Ali Salam, a 45-year-old owner of a stationary store in Baghdad. "This is real democracy and the results of the people's struggle."
Muna Abdul-Razzaq, a 37-year-old primary school teacher the northern Iraqi city of Mosul, said Iraqis have bad memories of President George W. Bush "who destroyed Iraq."
"We hope that Obama will be more responsible," she said.
But Muhsin Karim, a 50 year-old official in Iraq's Oil Ministry, said "I don't expect a big change in Iraq because America is a state of institutions, where Obama will find few options to change anything."
Still, some people hold out hope that Obama will fundamentally transform US policy toward the Middle East.
"Everybody loves him," said Abdullah Hiyari, a 21-year-old taxi driver in Amman, Jordan. "I am hopeful that he is really going to change things for the better in the region."