JAKARTA, Indonesia -- Street vendors in Indonesia cooked up "Obama" fried rice and children from the president-elect's old elementary school will sing the Star-Spangled Banner. Kenyans were planning parties for their most famous son.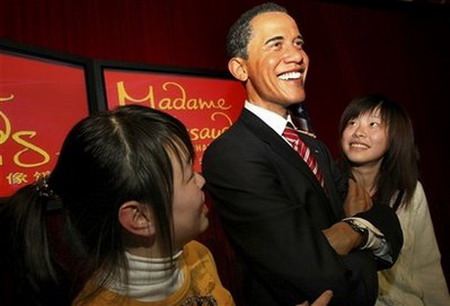 Guests stand together with a wax figure depicting US President-elect Barack Obama at Madame Tussauds, a waxworks museum, Tuesday Jan. 20, 2009 in Shanghai, China. Across the world, people gathered Tuesday to mark the inauguration of Barack Obama as if he were one of their own. [Agencies] 
Across the world, people gathered Tuesday to mark the inauguration of Barack Obama as if he were one of their own.
Related readings:


 Kenyan village awaits Obama's historic inauguration


 Obama look-alike shoots to fame in Indonesia


 Japan learns English from Obama speech textbook


 Irish bookie offers odds on Obama speech soundbites
In the Indonesian capital, where Obama spent four years as a young boy, students from his former school were to perform old-style dances from across the world's most populous Muslim nation.
Old classmates of the president-elect would come together to watch his speech at the Menteng 1 elementary school, where he is fondly remembered as a chubby kid nicknamed Barry.
"I'm proud that the next president is someone who I have shared time with," said Rully Dasaad, a former Obama classmate and fellow Boy Scout. "It was a crucial time for children our age, it is when we learned tolerance, sharing, pluralism, acceptance and respect of difference in cultures and religions."
In Kenya, neighbors were to join together for the moment, a year after their elections were marred by ethnic violence.
"Our election in Kenya really had problems with ethnicity ... America has shown that this doesn't have to be that big a problem," said Dr. Joseph Osoo, who runs a clinic in one of Kenya's biggest slums.
"Kenyan are very happy because their son is going to be the leader of America," he said.
In the Japanese town of Obama, stages were erected outside a local Buddhist temple for an "Obama for Obama" event, featuring hula dancers -- Obama was born in Hawaii, and hula is popular in Japan -- and speeches by local dignitaries.
The town has been big on Obama all the way from the primaries. After his election, more than 1,000 people turned out for a raucous celebration. Obama, which means "little beach," has a population of 32,000.
The town's businesses have pumped out Barack Obama sweet bean cakes, chopsticks, T-shirts, fish burgers, neck ties, and Obama Noodles marked "For world peace and stability." Most items depict only the back of his head, to avoid accusations of pirating his image.
Obama Mayor Koji Matsuzaki was out of town on business, but issued a statement.
"As mayor of the city with the same name, Obama, I feel extremely delighted," he said. "We all have long waited for this blissful moment."
Many across the Middle East heralded the inauguration but expressed reservations about how much Obama will actually change US policy in a region where anti-American sentiment spiked during the Bush administration.
Those doubts have become more pronounced in recent weeks with the devastating Gaza offensive by US ally Israel that killed over 1,250 Palestinians.