KISUMU, Kenya -- Residents in a Kenyan village where the US President-elect Barack Obama traces his roots slaughtered bulls and chickens on Monday as they are preparing to celebrate his historic inauguration.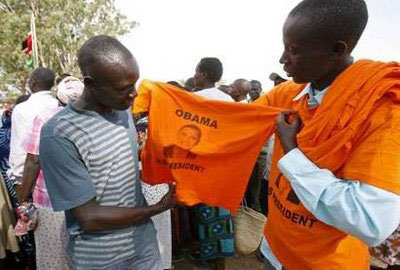 A vendor sells T-shirts featuring prints of US President-elect Barack Obama at the Barack Obama Nyang'oma Kogelo Primary School, 430km (267 miles) west of Kenya's capital Nairobi, January 19, 2009, during cultural celebrations in honour of Obama. [Agencies] 
The dusty village teemed with Kenyan and international journalists, government officials and tourists waited with baited breath as clock ticked towards President Obama's big day.
Villagers have donated four bulls and 20 goats to feed guests and are still looking for more. Thousands of villagers and neighbors to Obama's grandmother, Sarah, who is in the United States to witness the occasion, are expected at the school named after Obama for the fete.
National Heritage Minister William Ole Ntimama will be the chief guest during the occasion.
Villagers and guests will watch football and traditional wrestling matches before settling down to watch the inauguration from large television screens mounted at the school's pitch.
The Kenyan government has pumped water to many of the homes, schools, health centers and markets in Kogelo village. It has also supplied electricity and made roads in the area.
At least 100 entertainment groups have been hired to spice the ceremony. "I will be there in the morning and will stay until Obama concludes his speech. He is my cousin, you know," said 65-year-old Martha Onyango.
The government has donated 200 bags of maize to the villagers to enable them to prepare feasts during the inauguration ceremony. Obama has visited Kogelo three times -- in 1983, 1995 and 2006.
In Kisumu city where Obama had himself tested for HIV/AIDS during his 2006 visit, a group of comedians are rehearsing a mock inauguration of a US president. The same group conducted a mock of US election on November 4.