DEKALB, Illinois - Another student shot when a gunman opened fire at a lecture hall at Northern Illinois University has died, taking the toll to seven, including the gunman, a coroner said on Friday.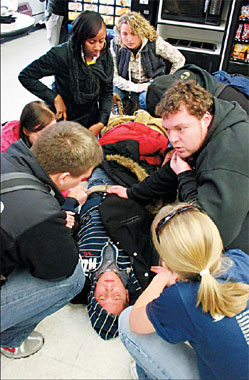 Students help a victim after carrying him from Cole Hall to nearby DuSable Hall at Northern Illinois University in DeKalb, Ill., on Thursday. A man dressed in black opened fire with a shotgun from a stage of a lecture hall at Northern Illinois University on Thursday, killing seven before shooting himself. [Agencies] 
Investigators and school officials do not know why the man fired on a geology class with a shotgun and two handguns on Thursday before committing suicide.
The man had been a graduate student in sociology at Northern Illinois as recently as last spring, but was not currently enrolled at the 25,000-student campus, university president John Peters said.
"It appears he may have been a student somewhere else," university police chief Donald Grady said. "We have no motive and I have no way of knowing what the motive was."
Authorities did not release the gunman's name, but Peters said he had no record of police contact or an arrest record while attending Northern Illinois.
DeKalb county coroner Dennis J. Miller on Friday released the identities of the four victims who died in the county: Daniel Parmenter, 20, of Westchester; Catalina Garcia, 20, of Cicero; Ryanne Mace, 19, of Carpentersville; and Julianna Gehant, 32, of Meridan.
Two other victims died after being transferred to hospitals in other counties, Miller said.
Witnesses said the gunman, dressed in black and wearing a stocking cap, emerged from behind a screen on the stage of 200-seat Cole Hall and opened fire just as the class was about to end around 3 pm.
Officials said 162 students were registered for the class but it was unknown how many were there on Thursday.
Allyse Jerome, 19, a sophomore from Schaumburg, said the gunman burst through a stage door and pulled out a gun.
"Honestly, at first everyone thought it was a joke," Jerome said. Everyone hit the floor, she said. Then she got up and ran, but tripped. She said she felt like "an open target."
"He could've decided to get me," Jerome said on Friday. "I thought for sure he was gonna get me."
Lauren Carr said she was sitting in the third row when she saw the shooter walk through a door on the right-hand side of the stage, pointing a gun straight ahead.
"I personally Army-crawled halfway up the aisle," said Carr, a 20-year-old sophomore. "I said I could get up and run or I could die here."
She said a student in front of her was bleeding, "but he just kept running".
More than a hundred students cried and hugged as they gathered outside the Phi Kappa Alpha house early Friday morning to remember Dan Parmenter, who was one of those killed.