The Chinese economy is expected to grow by 10 percent this year despite the impact of the United States subprime mortgage crisis, the chief of the International Monetary Fund said on Friday.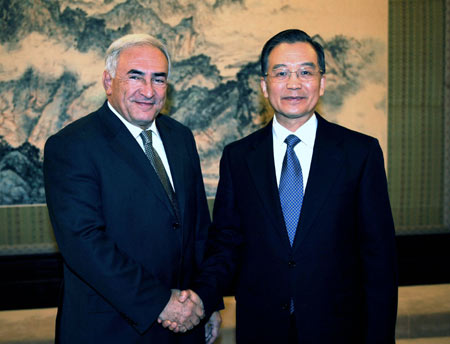 Chinese Premier Wen Jiabao (R) meets with Dominique Strauss-Kahn, the managing director of the International Monetary Fund (IMF), in Beijing Feb. 14, 2008. IMF expected the Chinese economy to expand by 10 percent this year. [Xinhua] 
"The current financial crisis, which began in the US housing market, is spreading to affect the real economy in the US and elsewhere," IMF managing director Dominique Strauss-Kahn said at a press conference one day after his arrival in Beijing.
However, Strauss-Kahn said he strongly believed emerging economies like China and India are full of vigor.
"We still expect China's economy to expand by 10 percent this year, and India's to grow by about 8 percent."
Related readings:


 India, China not immune to slowdown


 WB cuts China 2008 GDP growth to 9.6%


 Slow down in GDP a healthy sign


 GDP growth the highest in 14 years
The global economic slowdown has made it "even more necessary than before to have high growth in China", Strauss-Kahn said.
China has maintained double-digit growth for the past five years. The economy expanded 11.4 percent last year.
Strauss-Kahn also warned of challenges ahead for China to sustain its strong economic performance, and suggested its economic growth will be driven by internal demand instead of being pulled by exports and investment.
"China needs more domestic-demand-driven growth than export-led growth," he said.
Strauss-Kahn, on his first China trip as IMF chief, said he will focus on concerns about the current global economic situation in his discussions with Chinese officials.
He said the IMF agrees with the tight monetary policy China is adopting to contain investment growth and inflation, but urged a faster pace in the appreciation of the yuan.
"We welcome the authorities' objective of allowing greater flexibility over time," he said.
"However, we also encourage a faster pace of appreciation that will be helpful for addressing China's key economic challenges and will also contribute to preserving global economic stability."
On Friday, the yuan rise to 7.1760 to the dollar, the highest since it was revalued by 2.1 percent in July 2005 and cut free from the dollar peg to float within narrow bands. The yuan has appreciated by 13 percent against the dollar since then.
Strauss-Kahn said the IMF will also sign an agreement with China to promote the development of low-income countries.