JERUSALEM -- Leaders of Israel, the Palestinian National Authority (PNA) and the United States are expected to hold a joint meeting next week, local daily Ha'aretz reported on its website on Wednesday.
According to the report, the meeting will be attended by Israeli Prime Minister Ehud Olmert, PNA Chairman Mahmoud Abbas and the US President George W. Bush, who is due to visit the region next week.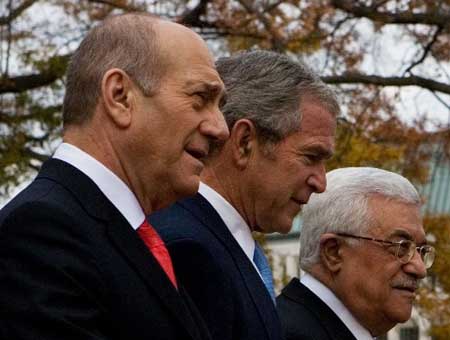 US President George W. Bush (C) Israel's Prime Minister Ehud Olmert (L) and Palestinian Authority President Mahmoud Abbas pose for photos during the Mideast peace conference, in Annapolis, Maryland, Nov. 28, 2007. [Xinhua] 
The topic of the summit will focus on accelerating the Israel-PNA peace negotiations, which was revived at the US-sponsored Annapolis Middle East peace conference in November 2007.
Ha'aretz quoted a senior Israeli politician as saying that "the purpose of the meeting was to further the negotiations," adding that the leaders would be able to evaluate how the situation was progressing to date, and to decide how the peace talks should proceed.
Related readings:


 Al-Qaida's Zawahri slams Annapolis conference in audiotape


 Israel, Palestinians to start post-Annapolis talks


 Iran president dismisses Annapolis conference as 'failure'


 China attaches importance to Annapolis conference: FM
The source said that if the meeting does take place, it will beheld in a neutral site, not in Olmert's residence in Jerusalem. Instead, one of the possibilities is the American Consulate in East Jerusalem.
Bush will visit Israel and the PNA next Wednesday and Thursday as part of a regional tour that will cover seven states in nine days.
Ha'aretz said the Israeli-Palestinian peace process and the Iranian nuclear issue will atop Bush's agenda during the visit.
The negotiation teams of Israel and the PNA have held two sessions after the Annapolis summit, but reached an impasse over disagreements on the issue of Israel's construction of settlements in the West Bank and East Jerusalem.
Olmert is expected to hold a meeting on Wednesday with Defense Minister Ehud Barak and Foreign Minister Tzipi Livni to discuss Israel's stance for the upcoming Bush visit, the report added.