SINGAPORE - Oil began the new year trading higher above 96 dollars a barrel on Wednesday as geopolitical tensions weighed on the market ahead of a key US inventory report, dealers said.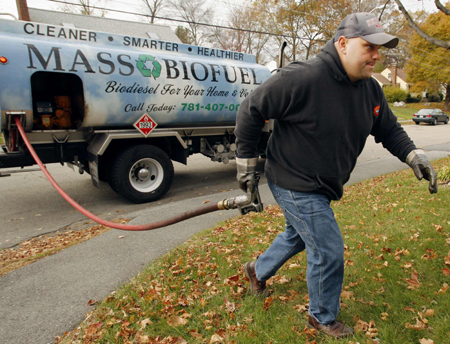 Steve MacDougall delivers a mixture of biofuel, made from refined soybean oil and low sulfur heating oil, for Mass Biofuel to a home in Norwood, Massachusetts November 12, 2007. [File photo] 
In early afternoon trade, New York's main contract, light sweet crude for February delivery, was at 96.34 dollars a barrel.
Trading had closed at 96.00 dollars in New York on Friday ahead of the New Year holiday.
New York prices briefly approached 98 dollars late last week after the assassination of Pakistani opposition leader Benazir Bhutto, before slipping on profit-taking.
The spike brought prices within sight of the all-time peak of 99.29 dollars a barrel reached on November 21.
David Moore, a commodities strategist with the Commonwealth Bank of Australia in Sydney, said geopolitical tensions in Pakistan and the wider Middle East region "have created a risk premium" for the market.
Tension along Turkey's border with northern Iraq has added to concerns about geopolitical instability, dealers said.
Support for prices could also be coming from "some nervousness" ahead of Thursday's release of the US Department of Energy's weekly report on energy stockpiles, Moore said.
Stocks of crude have declined in the United States for six weeks in a row, according to the US inventory reports.
At the same time, forecasts for milder weather in North America, the world's largest consumer of heating fuel, could temper the upward pressure on prices, Moore said.
From a low point of just below 50 dollars last January, oil prices doubled in 2007.
Analysts are forecasting oil to break through 100 dollars in 2008 as crude faces strong demand and tight supplies amid tensions in oil-producing regions.