BEIJING -- The Yungang Grottoes, one of the three largest major cave complexes in China, is facing a life or death situation, with humans as the judges deciding its fate.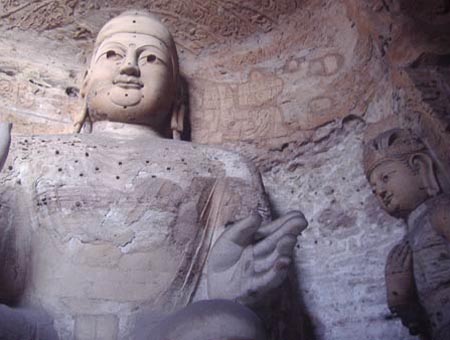 The chest of this Buddhist statue at the Yungang Grottoes was scarred and battered through years of wind and water erosion in a photo published on Dec. 31, 2007. [Agencies] 
The legal information Website efaw.cn reported that Yungang Grottoes, located on the southern foot of Wuzhou Hill, 16 kilometers west of Datong in Shanxi province, has been severely damaged by human activities and natural influences.
"If we do not take action, the grottoes will be gone forever," a researcher from the Yungang Grottoes Research Institute said.
Dubbed a treasure house of ancient Buddhist art, the grotto complex is composed of more than 51,000 Buddhist statues, ranging from 3 centimeters to 17 meters in height. Most of them were constructed during the Wei Dynasty in the mid-fifth century, when Chinese Buddhism was at the peak of its popularity.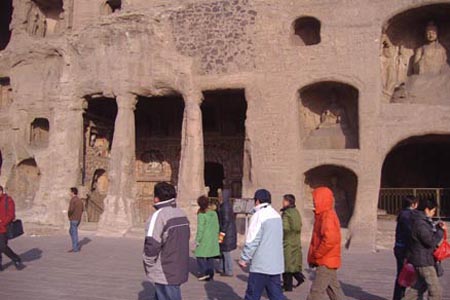 Visitors pass by the statues at the Yungang Grottoes in northern China's Shanxi Province in this photo, published on Dec. 31, 2007. [Agencies]
The statues are among the few remaining historical relics from the dynasty.
The most significant statues in the complex are those of its five emperors, Yuan Jinghu, director of the research institute, said.